Delay slams 'racist' Sky Sports over post on Patrick Vieira kicking a fan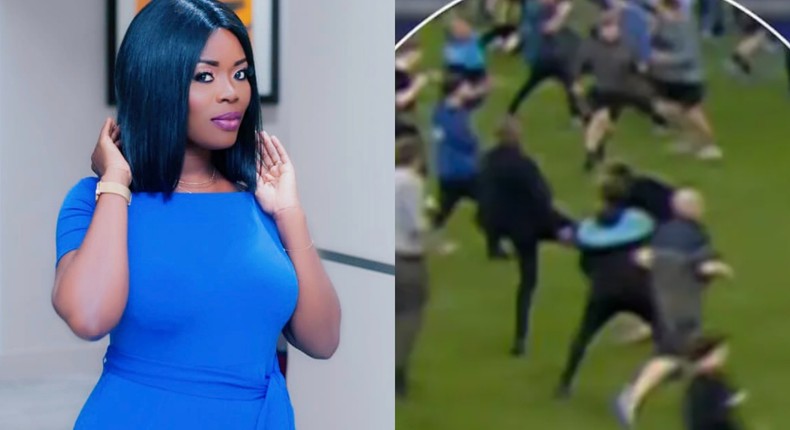 The Crystal Palace manager was captured on camera kicking an Everton fan in the aftermath of Thursday's Premier League clash.
Vieira's side lost 3-2 against the Toffees, who came back from two goals down to win the game and to maintain their Premier League status.
At full time, several Everton fans ran onto the pitch to celebrate the club's relegation survival, with one fan captured taunting Vieira as he walked off the field.
Retaliating to the fan's unsavoury act, the former France international kicked the fan, causing him to fall to the ground.
While videos from Sky Sports are usually not available to Twitter accounts in Africa, the British broadcaster made the video of Vieira kicking the fan available to all.
"Patrick Vieira has been filmed in an altercation with an Everton fan on the pitch at Goodison Park during tonight's pitch invasion," Sky Sports tweeted, accompanied by the video.
Reacting to this, radio and television host, Delay, called out Sky Sports and accused them of being racist and setting up Vieira for abuse.
"Why is this video suddenly available in my region. Oh I see, it's a Blackman who's "kicking" a white boy. Racist," she wrote after quoting their video.
Meanwhile, many other Africans on Twitter joined the Delay in condemning Sky Sports for their selectivity on which videos are made available to Africans.
More from category
Eddie Nketiah: Arsenal star confirms discussion over Ghana nationality switch

Ridge City birthed from my passion to help girls aspiring to be footballers – Cleopatra Nketiah

Yaw Annor: Ashanti Gold striker 7th on FIFA's list of players with most goals in 2022
Recommended articles
Eddie Nketiah: Arsenal star confirms discussion over Ghana nationality switch
Wolff remains resolute despite improved results for Mercedes
Ridge City birthed from my passion to help girls aspiring to be footballers – Cleopatra Nketiah
Yaw Annor: Ashanti Gold striker 7th on FIFA's list of players with most goals in 2022
Only 4 Chelsea strikers have beaten the 'number 9' curse in 30 years
Jojo Wollacott: Ghana goalkeeper joins League One side Charlton Athletic
'I will get the credit I deserve again'- Anthony Joshua makes confident claims ahead of his rematch with Oleksandr Usyk
Romelu Lukaku and the other victims of Chelsea's 'Number 9' curse
'He's unstoppable now'- MMA promoter thinks this fighter can stop Israel Adesanya