15 things to know about women to referee at World Cup, Africa represented
Rwanda's Mukansanga is a nurse, France's Frappart has won the World's Best Woman Referee three times already, and there's more to know about these 'women leaders'.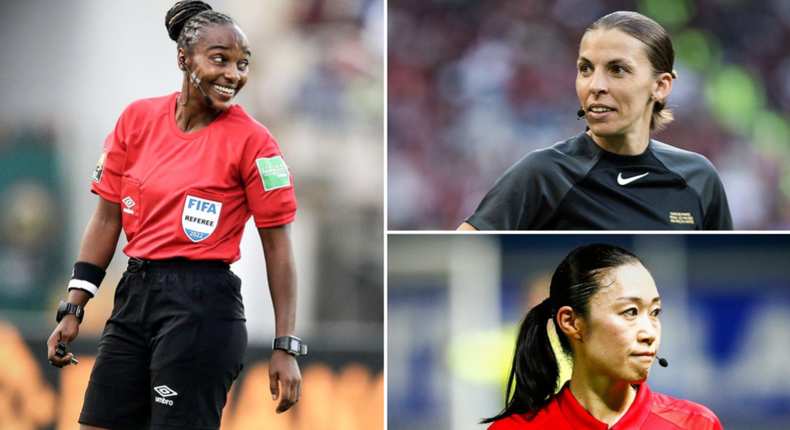 For the first time in the history of the men's FIFA World Cup, female officials will referee matches.
Three women: Stephanie Frappart of France, Salima Mukansanga of Rwanda, and Yoshimi Yamashita of Japan were among 36 other referees, selected to oversee matches at the tournament holding later this year.
The Qatar-hosted World Cup which begins on Monday, 21 November, and will see 69 assistant referees, and 24 video match officials also handling the games, will also have three female assistant referees on the sidelines.
What's there to know about these female role models?
Salima Mukansanga
The Rwandan official took part in games at both the Tokyo Olympics and the Women's World Cup in France.
Mukansanga was the first woman to officiate in the African Cup of Nations in 2022, leading an all-female officiating squad that included Fatiha Jermoumi (Morocco), Carine Atemzabong (Cameroon), and Bouchra Karboubi (Morocco) as the VAR.
She was attracted by referees as a child and, began her refereeing career as a teenager in Rwanda. She gave up playing football after secondary school to become a referee.
Mukansanga has a Bachelor's degree in nursing.
She is the youngest of the three selected women referees. The Rwandan is just 33-year-old.
It was Mukansanga, that officiated the world's highest-altitude football match on Mount Kilimanjaro in 2017.
Stephanie Frappart
AFP
Since 2009, she has been on the FIFA International Referees List.
In 2019, the 38-year-old became the first woman to officiate a big men's European competition as well as a French Ligue 1 encounter.
She also became the first woman to officiate a UEFA Champions League match in 2020.
Frappart became the first woman to officiate a men's World Cup qualifying match in 2021.
She was the referee for the 2019 FIFA Women's World Cup final between the United States and the Netherlands.
She is a three-time winner of the IFFHS World's Best Woman Referee: 2019, 2020, and 2021.
Yoshimi Yamashita
Twitter/TheAFCCL
The 36-year-old was: like Frappart and Mukansanga, a referee at the Tokyo Olympics and the Women's World Cup in France.
In April 2022, she became the first female referee to officiate a game in the Asian Men's Champions League. The match between Melbourne City and Jeonnam Dragons, saw former Arsenal defender Carl Jenkinson score the opening goal for Melbourne.
Yamashita was also part of the first all-female cast to officiate an AFC Cup match in May 2019, when they officiated a match between Myanmar's Yangon United FC and Cambodia's Naga World.
More from category
FIFA slaps Ghana U17 women's team with two years ban for age cheating

Roundup: Hosts Morocco, Senegal off to winning start, Tunisia pummel debutants Togo

CAF postpones 2023 AFCON to January 2024
Recommended articles
FIFA slaps Ghana U17 women's team with two years ban for age cheating
Roundup: Hosts Morocco, Senegal off to winning start, Tunisia pummel debutants Togo
CAF postpones 2023 AFCON to January 2024
Senegal's 2002 World Cup: From formation to culmination [Excerpt]
All the red carpet photos you missed from the Ghana Football Awards
Folarin Balogun celebrates birthday with Nigerian attire after goal for Arsenal
Alexander Djiku crowned Footballer of the Year at 2022 Ghana Football Awards
The biggest talking points from UFC 276 as Adesanya defends title
Israel Adesanya survives Drake curse with victory against Jared Cannonier