Haminu Dramani reveals what Essien told him after World Cup goal against USA
Ex-Ghana international Haminu Dramani has revealed his conversation with teammate Michael Essien following his special goal against the USA during the 2006 World Cup.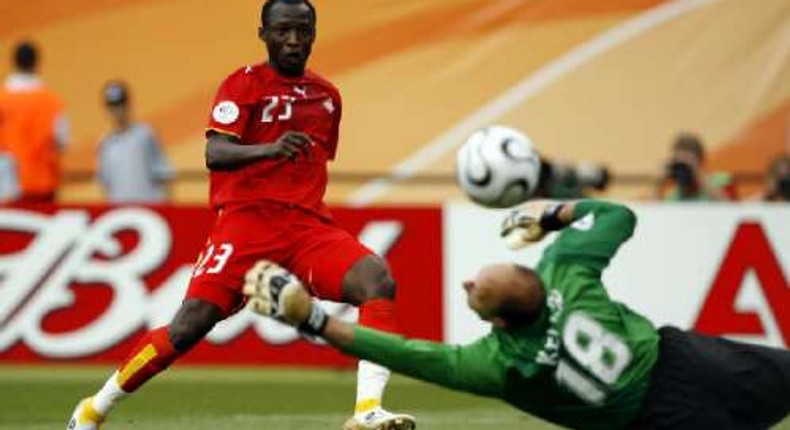 The former Red Star Belgrade and Asante Kotoko midfielder said the goal remains one of his best World Cup moments.
Dramani was part of the Black Stars team that qualified the country for its first-ever World Cup in Germany.
Despite losing their opening group game against Italy, Ghana recovered to beat the Czech Republic and USA to advance to the round of 16.
Dramani was among the scorers in the game against the Americans, scoring Ghana's first on their way to a 2-1 victory.
Recounting his first, and only goal at the World Cup, Dramani said Essien told him his strike will remain in his memory forever.
"Of course, my most memorable World Cup moment was against USA," the 36-year-old told TV3.
"I remember right after the game, Essien was telling me 'hey this your goal is going to be there forever'. So I remember all those things. It was an amazing feeling."
Pulse Ghana
Dramani said it felt special to feature in the World Cup in 2006, adding that it's every footballer's dream to play on the world stage.
"I remember when he first arrived at the stadium to play our first game. When I felt the grass, I was like 'wow I'm really going to play on this field'".
"The world cup means a lot to me. It's every footballer's dream to play in the World Cup. It's a big opportunity for every player to see himself in the World Cup," he added.
More from category
FIFA World Cup 2022 goalscorers (Golden Boot rankings)

Day 12 Roundup: Belgium, Germany tell World Cup 'e go be' as Morocco, Japan top their groups

FIFA World Cup 2022: All results, fixtures, scores, live standings
Recommended articles
FIFA World Cup 2022 goalscorers (Golden Boot rankings)
Day 12 Roundup: Belgium, Germany tell World Cup 'e go be' as Morocco, Japan top their groups
FIFA World Cup 2022: All results, fixtures, scores, live standings
Belgium's not-so golden generation crash out after disappointing Croatia draw
Hand of Suarez: Ghana and Gyan's biggest doom in FIFA World Cup tournament
'I was playing colts in Ashaiman' - Thomas Partey recounts Suarez's handball incident
My performance for Ghana is based on what the coaches instruct me to do – Partey
Ghanaian fans arrested in Qatar for selling World Cup match tickets
Nike team up with Liverpool shareholder LeBron James in honour of Merseyside club