COVID-19: Italy set to relax stadium regulations from next month
Fans in Italy are set to be allowed to cheer their clubs in the decisive stage of the season without their masks and green passes.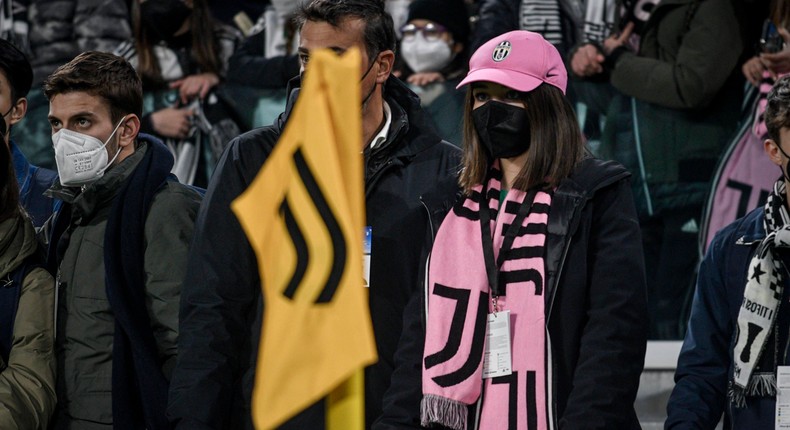 Italian authorities are expected to make changes to their COVID-19 stadium regulations starting next month.
"The Council of Ministers will set the latest rules, but the situation is already quite clear and also concerns the sports facilities, which have already returned to maximum capacity," the Italian outlet stated.
"No more green passes to show to enter stadiums and halls, as well as to do sports or use the changing rooms."
On the use of face masks, Gazzetta added that the latest changes may still affect other sporting facilities.
Carlo Hermann /AFP/Getty
"They will no longer be needed in outdoor venues, such as stadiums, while the government is likely to decide to keep them for sports halls, as well as cinemas and theatres."
This means that fans will no longer need to show up at stadiums with their face masks and green passes before gaining access.
Italy lifts restrictions on stadium capacity
Earlier this month, the football authority in Italy took a first step towards relaxing COVID-19 regulations as they border on fans.
Capacity restrictions in stadiums were lifted at the start of April, with more fans allowed into the venues to cheer their teams.
However, despite the relaxation, they were still expected to come with their face masks and green passes to verify their COVID-19 status.
pulse senegal
Now, this is about to change starting May 1, when the domestic season in Italy enters its decisive stage with final matches in the Serie A and Coppa Italia.
More from category
Report: Everton reject Chelsea's £40million bid for attacker

Reactions as fans praise Eden Hazard after Madrid's comeback win

Antonio Conte accuses Thomas Tuchel of being aggressive after touchline spat
Recommended articles
Report: Everton reject Chelsea's £40million bid for attacker
Reactions as fans praise Eden Hazard after Madrid's comeback win
Antonio Conte accuses Thomas Tuchel of being aggressive after touchline spat
Everybody knows what is going on - Thomas Tuchel on referee Anthony Taylor after Tottenham match
Reactions as Sadio Mane shines in Bayern Munich's 2-0 win against Wolfsburg
Watch: Tuchel-Conte squabble headline 'thrilling' London derby as Chelsea and Spurs draw
Reactions as Harry Kane steals Chelsea's Joy with late goal for Tottenham
Ghanaian delegate missing in Birmingham after Commonwealth Games
'It's a matter of time' - Xavi backs Lewandowski to start scoring soon