Footballer's wife slams EA Sports for making her husband 'ugly' in FIFA 23
The wife of Brazilian footballer Lucas Verissimo has hit out at EA Sports, claiming they have made her husband ugly in the FIFA 23 video game.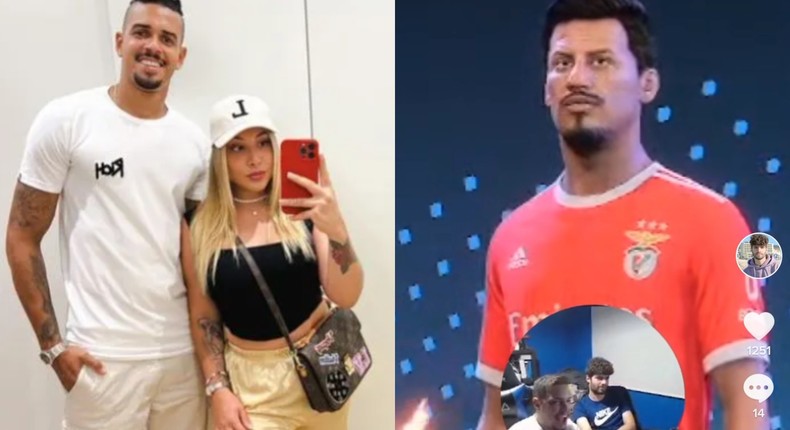 Verissimo, who plays for Portuguese side Benfica, is represented in the video game but his looks are quite suspect.
Reacting the defender's appearances on Twitter, his wife Amanda said EA Sports have turned her husband into an ugly man.
"What ugly thing is that? I didn't marry an ugly man for sure," the mother of two wrote on Twitter.
Her comment was in response to a tweet by one Daniela Batista, which read: "For the love of God I don't know whether to cry or laugh with the Lucas Verissimo I'm seeing on FIFA 23. He looks nothing like Lucas."
Meanwhile, Ghana's Black Stars are one of the new national teams added to EA Sports' FIFA 23 game.
The Black Stars are part of 16 new national teams confirmed to be part of the game's World Cup mode feature.
The World Cup mode allows gamers to pick teams that have qualified for the Qatar 2022 World Cup as playable nations.
Other African nations that have also been added to the FIFA 23 game are Cameroon, Morocco, Senegal and Tunisia, with Nigeria conspicuously missing.
This is probably because the Super Eagles failed to secure a place at the World Cup after losing to Ghana in the playoffs.
More from category
Magical Messi rescues Argentina from embarrassing group stage exit

FIFA World Cup 2022: All results, fixtures, scores, live standings

Argentina vs Mexico Live
Recommended articles
Magical Messi rescues Argentina from embarrassing group stage exit
World Cup 2022: Fernandez doubles lead after Messi's lovely opener
FIFA World Cup 2022: All results, fixtures, scores, live standings
The undiluted clash between Argentina and Mexico amid a raucous atmosphere
Argentina vs Mexico Live
Anthony Taylor, Gary Beswick, and Adam Nunn will take charge of South Korea v Ghana game
World Cup 2022: Cristiano Ronaldo a 'total genius' for winning Portugal penalty - Fifa
Thomas Party flies parents to Qatar World Cup
France vs Denmark Live