Basketball legend made more more in 2014 than his entire playing career
Michael Jordan last year made more than $100 million per year off royalties from his Nike Air Jordan brand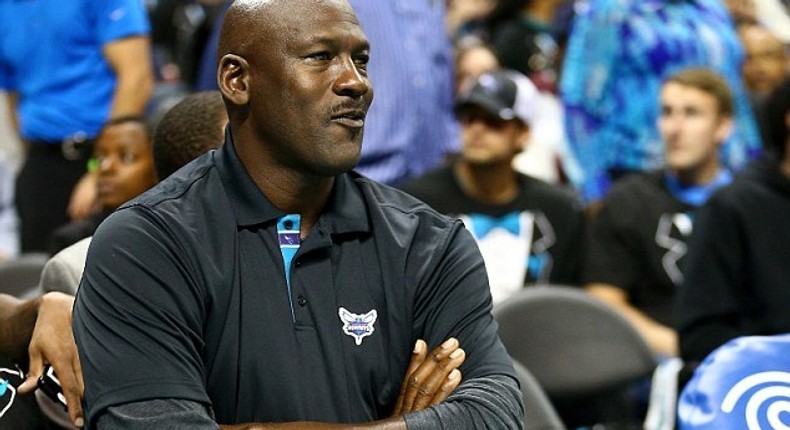 Basketball legend Michael Jordan is  still raking in the cash despite hanging his boots 12 years ago.
According to ESPN, the former athlete makes more than $100 million per year off royalties from his Nike Air Jordan brand.
Forbes estimates that Jordan made a total of $94 million through-out his playing career less than the $100 million he made just last year.
ESPN got the figures from Basketball-Reference and the Bureau of Labor Statistics inflation calculator.
Since retiring from basketball in 2003, Jordan took up the business of entrepreneurship, managing and running sports franchises.
He currently is the co-owner of NBA club, Charlotte Hornets.
Michael Jordan, a five-time NBA MVP and 14-time NBA All-Star player is described on NBA's website as 'the greatest basketball player of all time.'
Most of Jordan's financial strength comes from Nike payouts on his iconic brand, Air Jordan, which grossed an estimated $2.25 billion in 2013, earning his Airness some $90 million.
His most valuable asset, however, is his stake at Charlotte Hornets, worth more than $500 million.
Watch this video of Michael Jordan, below:
JOIN OUR PULSE COMMUNITY!
Recommended articles
Milan beat nine-man Bologna to move top of Serie A
Slick Man City blow away Brighton
Mead nets hat-trick as England women thrash Northern Ireland
Chelsea hit Norwich for seven, Man City beat Brighton
Giakoumakis scores as Celtic stretch winning run
Lewandowski scores to keep Bayern Munich top of Bundesliga
Bayern star Kimmich unvaccinated due to 'personal concerns'
Lee sent off as Valencia hit Mallorca twice in injury time
Pele celebrates 81st birthday as tributes roll in