Former Liverpool player, El-Hadji Diouf says former captain is racist
El-Hadji Diouf has accused Steven Gerrard of being a racist after the former Liverpool captain criticised him in his new book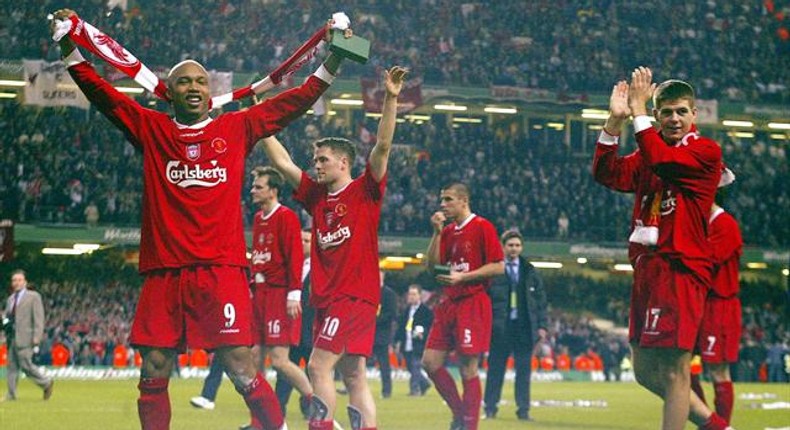 Former Liverpool player, El-Hadji Diouf has accused former captain Steven Gerrard former captain of being a racist.
Gerrard in his new book 'My Story' revealed the former Senegal international was his least liked player Liverpool ever signed during his time at the club.
The former Liverpool captain claimed Diouf had no real interest in football and cared nothing about Liverpool, finishing off by stating that while he had some respect for Mario Balotelli, who could be 'endearing' at times, he had none for Diouf.
"It seemed to me that Diouf had no real interest in football and that he cared nothing about Liverpool," Gerrard wrote in his book.
"For example, the way he spat a huge globule of gunky phlegm at a Celtic fan in a UEFA Cup match at Parkhead in March 2003 summed up his contemptuous and spiteful demeanour," he added.
The UK and some other UK media outlets have been serialising the Gerrard's book.
Diouf responded to Gerrard's revelation by accusing the LA Galaxy player of being a racist.
"We all saw how he made life difficult for Mario Balotelli at Liverpool. I warned him. Liverpool isn't a team that accepts black people unless they are English." Diouf told Radio Future Media in Senegal.
"It's common knowledge. Gerrard has never liked black people. When I was at Liverpool, I showed him I was black, that I wasn't English, but that I'm no pushover. All the time I was there, he never dared looked me in the eye," the former Liverpool forward said.
Watch this video of Steven Gerrard, below:
JOIN OUR PULSE COMMUNITY!
Recommended articles
Guinea forward Bayo to appear in court for drink driving
'This too shall pass' – ICGC consoles members who are Manchester United fans
Watch: This guy plays FIFA with his feet and is among the best in the world
Man Utd thrashing by Liverpool 'was coming', says Shaw
African players in Europe: Salah's historic Old Trafford hat-trick
'Legalise marijuana, the ghetto youth are complaining' – Bukom Banku tells Akufo-Addo
Five candidates to replace Solskjaer as manager of Man Utd
Andre Ayew wins his first trophy in 9 years as Al Sadd lift Amir Cup
'The IGP must arrest this team' – Ghanaians react to Hearts of Oak's 6-1 defeat to Wydad