Petrol price up by 2%
Oil Marketing Companies say the price of crude oil has gone up on the world market. In addition, they argue that the cedi has seen a sharp decline in recent days.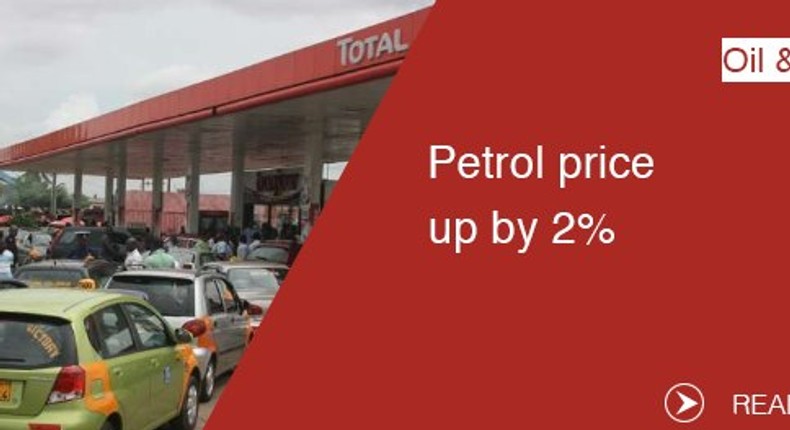 The price of petrol has gone up by two percent today Thursday June 16.
But the  Chamber of Petroleum Consumers (COPEC) have described the increase as "unwarranted, given that current international prices have not increased significantly."
In a statement copied to Pulse Business,  COPEC said the move is a share rip-off to comsumers.
Duncan Amoah who signed the letter also used the opportunity to urge government to remove some of the taxes on the downstream petroleum sector.
"We further use this opportunity to also remind government of the urgent need to ensure the downward revision of the levels of taxes on petroleum products in the country. We also maintain our call on government to put in place a dual pricing mechanism which will serve to minimize the effects of world market prices adversely affecting local pump prices and the deregulation programme altogether," the executive secretary of the Chamber Duncan Amoah said in the statement."We further remind government that its own projected and budgeted $53/barrel for 2016 fiscal year from jubilee exports and revenue realization is close to a reality as prices hover around $50/barrel currently and could soon hit the budgeted figure, hence the need to ensure most if not all of the petroleum taxes in the 2015 energy sector levies Act be reviewed or removed completely."We continue to monitor prices and will not hesitate to advise ourselves accordingly in due time if all consultations and negotiations remain unheeded," the statement added.
JOIN OUR PULSE COMMUNITY!
Recommended articles
Top 10 African countries with the highest GDP projections for 2023
Top 5 economies in Sub-Saharan Africa to watch out for in 2023, according to IMF
Tanzania joins the list of African countries to sign an oil deal in the new year
Shocking IMF report reveals Angola and Ethiopia to surpass Kenya as top economies in Sub-Saharan Africa
10 wedding gowns on trends for 2023 brides
Aisha Modi reveals her killing job in America that pays extremely well (WATCH)
Court orders lady to pay $80,000 to man for dumping him after he paid her school fees
Nigerian LGBT rights activist being installed chief in Ghana falls off palanquin (video)
Kenya and Tanzania tear down 23 trade barriers hindering their commercial relationship