Opposition to ECG concession "misplaced"
Government is set to lease ECG to a private company for 25 years as part of the second compact of the Millennium Challenge Account signed by the Government in August 2014.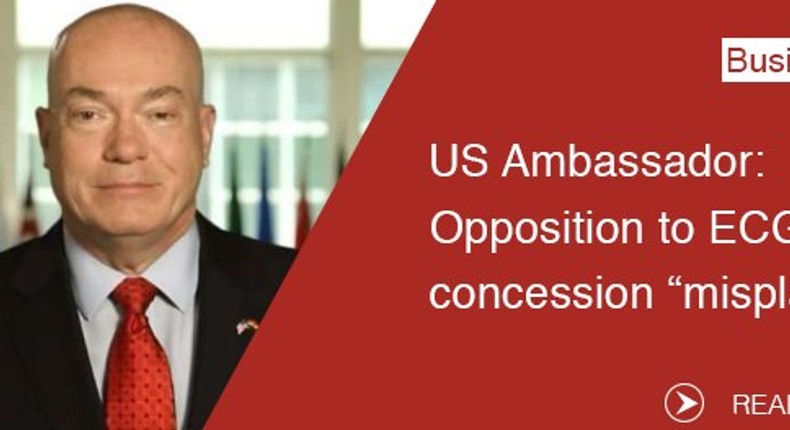 The US ambassador to Ghana,
The concession has come under intense opposition from the workers, expressing fears they may lose their jobs.
However, Jackson in an interview said the opposition to the concession is misplaced.
"I'm aware of the opposition but it is misplaced. I don't think they understand this is not privatization," he told Citi FM. "I think they need to look at the fact that the ECG is deeply in debt, that the company has struggled for years to meet demand and this is an opportunity and the ECG workers need to understand that they are guaranteed their jobs for five years."
Jackson also allayed fears of immediate retrenchment, saying that in the next five years, no ECG worker will lose his or her job.
"No one will be fired in the first five years of the concession," he continued. "Not as part of the concession."
Jackson said the private company to operate ECG will be a Ghanaian company and "it will be operated for the people of Ghana."
He was hopeful at the end of the 25 years of concession, ECG will be in a better position meet demand of industries and consumers.
"The end of the 25 years with $500 by the American people and $500 by the private company, I believe the power company will be much stronger, much more reliable and will be able to provide the industrial base for the future."
JOIN OUR PULSE COMMUNITY!
Recommended articles
Court orders lady to pay $80,000 to man for dumping him after he paid her school fees
Actress Benedicta Gafah ties the knot
Guest house boss shoots customer for complaining about malfunctioning TV
10 trending kente styles that took over the 'gram in January
German firm invests Sh350 million in Kenya to make the country a leading distributor of its product
East Africa continues to experience an impressive intra-trade growth trajectory
CHAN 2022: Ghana awarded 3 points, 3 goals due to Morocco pull-out
Missing twins saga: 37 Military Hospital apologises to couple …claims scans were incorrect
Police arrest 34 prostitutes in Tema, court grants each one GHC5k bail