Angry man attempts suicide inside banking hall after his money was given to fraudsters (video)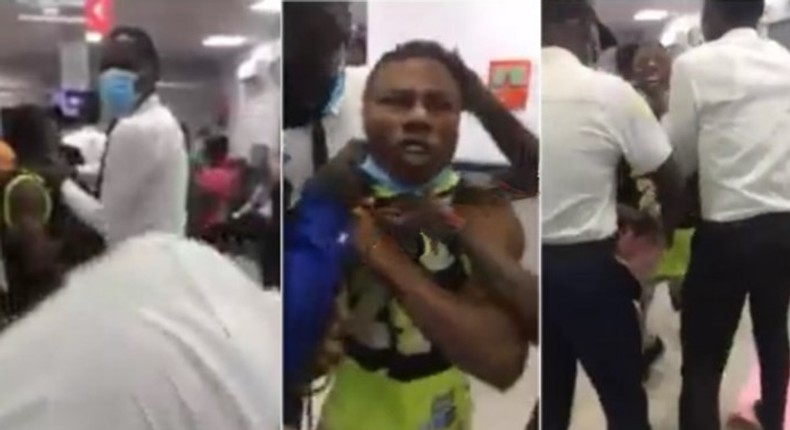 The dramatic incident happened in Nigeria where cyber fraudsters allegedly hacked into the customer's bank account to steal his money.
Facebook user, Floyd Nzeogwu Mordi who shared a video of the incident on his page said that the hackers gained access into the man's account and stole over N450,000.
The victim of the alleged fraud then visited his bank, lodged a complaint and they traced and froze the account of the hackers.
He was asked to go to court to obtain an affidavit to prove that he was not the one who did the alleged fraudulent transaction.
However, after getting the required court document, the bank informed him that they had unfrozen the hackers' bank account and released the money to them.
Unable to accept the disappointing turn of events, he tied a wire around his neck to strangle himself, screaming and attempting to take his life.
The video of the development shows officials alleged to be of the United Bank For Africa (UBA) Iju branch in Lagos rescuing and calming the furious customer.
JOIN OUR PULSE COMMUNITY!
Recommended articles
Ghanaian pastor allegedly steals female congregant's ¢40k, sets her house ablaze and flees
12-year-old boy seeks help to raise GHc90,000 for bloated heart treatment
Church members allegedly asked to kneel outside as punishment for lateness (video)
Mob kills Ghanaian marijuana seller who stabbed a buyer to death over payment
Minister attacked for advising schoolgirls to open their books, close their legs
Nigeria's Ekiti University staff uses taser to shock student over exam malpractice (video)
16-year-old schoolboy shoots classmate to death and kills himself in South Africa
29-year-old man gets over 1,000 applications after putting up billboards to find wife
Ghanaian man sleeps with 2 biological daughters and impregnates stepdaughter