FDA cautions against certain eyedrop brands as 3 die, 8 go blind
The Food and Drugs Authority (FDA) has warned the public against the usage of two brands of eyedrops, Ezricare Artificial tears and Delsam Pharma's Artificial tears.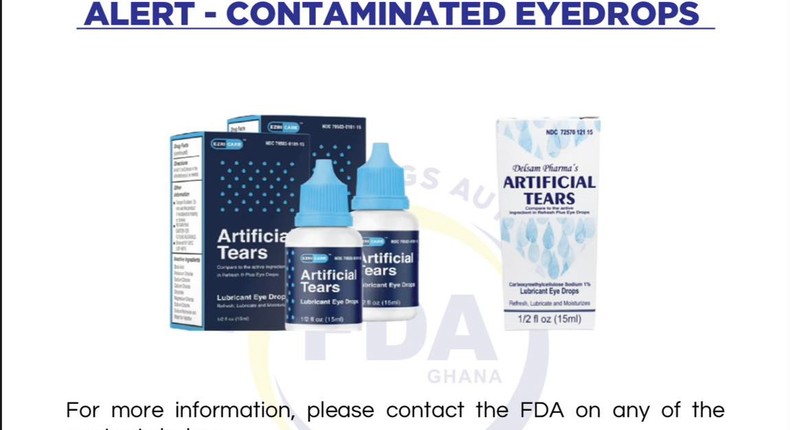 This comes after the products caused the death of three persons and vision loss in eight patients.
The FDA in a statement said US Center for Disease Control and Prevention (USCDC) disclosed the news to the authority.
The incident has, therefore, been classified as an outbreak.
According to the FDA, although the products have not been registered in Ghana anyone who is using any of the products should stop them with immediate effect and "submit them to any of the FDA offices nationwide."
"Anyone who has used these recalled products and is experiencing any symptoms should contact a healthcare professional immediately.
"Reported symptoms include yellow, green or clear discharge from the eye, eye pain or discomfort, redness, feeling of something in the eye, increase sensitivity to light and blurred visions," parts of the statement read.
The FDA further assured the public to work earnestly to ensure that only safe and effective medical products are available in Ghana.
Pulse Ghana
Recommended articles
DIY Recipes: How to make soy milk
Planning a wedding? Here are 4 mistakes to avoid
Low sexual satisfaction can make men have memory decline - Study
Menstrual hygiene: Here's how to wash your period panties properly
DIY Recipes: How to make cornmeal doughnuts (Awiesu)
For women: 4 simple tricks to make a man fall in love with you
10 trending Kente styles that took over the 'gram in May
Study shows men have been peeing wrong; they ought to sit and not stand
Here are the number of times you need to try to get pregnant, according to research