Today's Front Pages
Here are today's newspaper headlines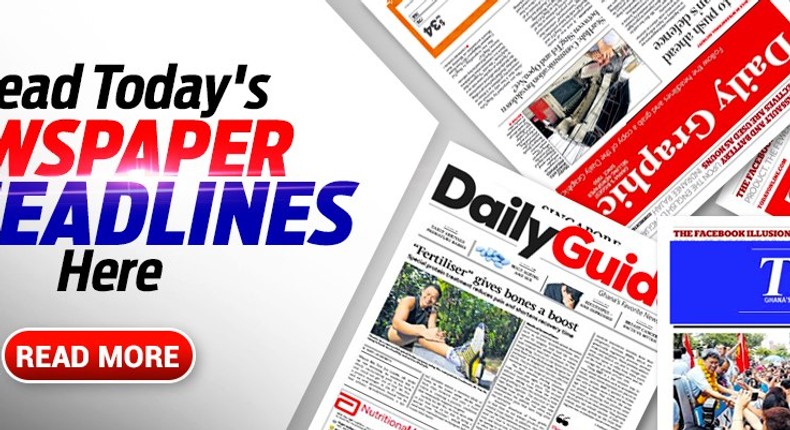 250MW POWER PLANT ARRIVES
The Volta River Authority at the weekend received a 250-megawatt plant from Africa and Middle East Resource Investment (AMERI) based in Dubai to augment the country's power mix.
22 TRADERS TO BE PROSECUTED FOR DEALING ON ADULTERATED PALM OIL
The Drug Law Enforcement Unit (DLEU) of the Ghana Police Service will, in the ensuing days put before court the 22 traders arrested in connection with large quantities of adulterated palm oil confiscated by the Food and Drugs Authority over the weekend.
RESPECT DECISION OF NEC – AKUFFO-ADDO
The 2016 presidential candidate of the New Patriotic Party, Nana Addo Dankwa Akufo-Addo, has called on all loyal members of the NPP to respect the decision of the National Executive Committee and the constitution of the party.
MAHAMA BOYS SEIZE ODIKE'S CAR
Presidential Candidate of the United Progressive Party (UPP), Akwasi Addai aka 'Odike' was Monday subjected to public humiliation when his Toyota Hilux Pick-up vehicle was seized by known President John Mahama boys in Kumasi.
NPP WAS IN AFOKO'S POCKET – C.K. TEDAM
Chairman of the New Patriotic Party's Council of Elders, C.K., has broken his silence on the decision to suspend the party's National Chairman, Paul Afoko.
Support for a new running mate to partner President John Mahama for election 2016 is swelling in the National Democratic Congress dividing the ran k and file of the party.
GHANAIANS PLUNGED INTO FURTHER DARKNESS
For the many Ghanaians who might have come to terms with the erratic power situation which has plagued the country over the past three years, and are adjusting accordingly, a further decline in the situation would be a major test on their patience.
AKUFO-ADDO BACKS NEC ON AFOKO'S SUSPENSION
The presidential candidate of the New Patriotic Party, Nana Addo Dankwa Akufo-Addo has backed the decision of the party's National Executive Committee to indefinitely suspend the party's National Chairman, Paul Afoko and called on all party faithful to respect same.
The Bulk Oil Storage and Transportation Company Ltd. (BOST) could return into the fold of the beleaguered Tema Oil Refinery, if the Awuah-Darko led management – which has been tasked to look at that possibility – recommends same to government.
BANKS' SERVICES DETERIORATE
Banks have ignored the service quality and professionalism they give to customers and now pay more attention to business environment, a latest survey has found.
BUDGET MUST BE EMPLOYMENT CENTERED – TUC
Government's 2016 budget, expected to be presented to Parliament next month, must focus on employment creation to reduce the growing number of unemployed graduates in the country, the Trades Union Congress (TUC) has said in its proposals for the 2016 Budget and Economic Policies of the Government of Ghana submitted to the Finance Ministry.
JOIN OUR PULSE COMMUNITY!
Recommended articles
20-year-old Ghanaian woman throws 3-month-old twin baby boys into a well
I can't speak publicly on national issues; I'm no more Presby moderator – Rev. Martey
I'm not silent about national issues; I speak through text messages now - Rev. Martey
Video: I won't spend money to fix Accra floods till there's an attitudinal change - Akufo-Addo
Ghana's presidential jet to undergo major repair works – Defence Minister
Ghanaian MPs don't intentionally take double salary – Bagbin
Akufo-Addo does not have legal backing to declassify Achimota Forest – Minority
Ghana Meteorological Agency introduces 'My Flood Risk Accra' mobile App
Western Region hasn't recorded a monkeypox case – Ghana Health Service