Using the cedi for gift bouquet is illegal - BoG
The Director of the Currency Department at the Bank of Ghana, Mr. Dominic Owusu has described as illegal the act of using the cedi notes in making bouquets and hampers.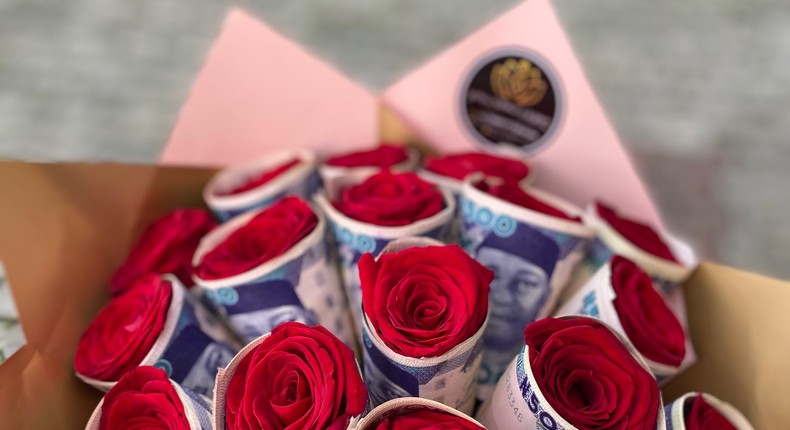 The central bank official has thus warned Ghanaians to desist from this.
In an address to the media, the Mr. Owusu said that the use of the cedi aside from its purposes could be subjected to prosecution.
"In recent times, you see people using the currency for bouquets and then sometimes when they want to do presentations, they use the currency to do designs in baskets, hampers. It is against the Bank of Ghana policy," he stated while addressing the media.
He further noted that, the cedi issued by the Bank of Ghana is legal tender and is only supposed to be used as a medium of exchange, not as gifts and bouquets.
He continued to explain that the currency is defaced once it used for other purposes apart from what its supposed to be used for.
"Currency Act 64 talks about using coins which for now are banknotes for things either than that purpose for which the currency act was issued."
"Desist from such acts, it is not in line with the policy so you must stop it. If you want to give a present, go and buy gifts. Don't go and buy bouquets and do it," he warned.
According to him, such information circulating on social media to that effect is false.
Recommended articles
Kenya secures $500 million commercial loan from global banks
AfCFTA's promising future: Boosting African trade amidst obstacles
All Surfline sims have been deleted from the central database – NCA
Patricia Obo-Nai Recognised Among Top Women CEOs in Africa
Ghana's Cedi set for a huge comeback following the IMF's $3 Billion bailout
See the ambitious Sh1.4 trillion ($10 billion) project the president of Kenya is involved in
Tanzania to grant special status to diaspora inhabitants by the end of 2023
Is it possible to win with 5 dollars only?
Why do online casino players strive for anonymity?