Celebrity couples who abstained from sex till they got married
Is it possible for celebrity couples to be celibate until they get married? It is possible and there are quite a number of celebrities in America who abstained from sex until they said 'I do'.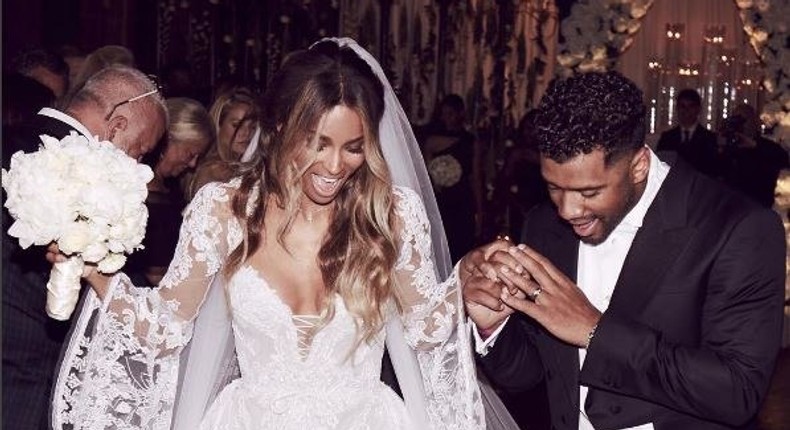 On Thursday, July 7, 2016 singer
Apart from the friction with rapper
Well now that they are man and wife, we guess Ciara and Wilson have consummated their relationship.
Ciara and her American Football star husband are not the only celebrities who have abstained from sex till they got married. There are many power couples who have also gone this same route. You can read about them below;
1) Nick Cannon & Mariah Carey
Believe it or not, actor Nick Cannon and music diva Mariah Carey abstained from sex while they were dating. They held this pact until they got married in 2008. "It's not that we had NO intimacy, we just didn't have complete intimacy. It's just me, and my feelings. I definitely don't want to push it on anybody else. But we both have similar beliefs, and I just thought that it would be so much more special if we waited until after we were married. And it was, and it still is" said the pop diva to Mirror in 2008.
2) Meagan Good & DeVon Franklin
Hollywood actress Megan Good and her pastor-husband DeVon Franklin did not get intimate with each other while they were dating. They were not ashamed to let the world know. Franklin also shared that he had been celibate for 10 years when he met Meagan Good. The pair married in 2012.
3. Jessica Simpson & Nick Lachey
Before they got married in 2002, Jessica Simpson and Nick Lachey publicly abstained from sex. Their choice stemmed from Simpson's deep Christian roots. "I promised God, my father and my future husband that I would remain a virgin until I got married. I just always knew it was something I wanted to do" Jessica Simpson said. The pair divorced in 2006.
4. Tamera Mowry & Adam Housley
Actress Tamera Mowry lost her virginity to Housley but not when she was married to him. After they had sex for the first time Mowry decided not to have sex again until she got married. She got married to Adam Housley in 2011.
5. Lisa Kudrow and Michel Stern
Former star Lisa Kudrow did not have sex with her husband Michael Stern until they got married in 1998. Kudrow also claimed that she was a virgin until she got married.
In 2010 during an appearance on Jay Leno Show she admitted that she wasn't a virgin but she and her husband were celibate until they got married.
JOIN OUR PULSE COMMUNITY!
Recommended articles
I got defeated; Yaw Tog opens up on spiritual attack
Shatta Capo faces legal threats for claiming to be chief in Ngleshie Amanfro
Cheddar's son flaunts expensive Richard Mille watch at GIS Prom
Artistes will succeed with or without TikToker influencers – Fameye
I don't care about my American citizenship - Michael Blackson
Asantewaa's mother-in-law speaks on her 'online relationship' with her manager (LISTEN)
Gyakie drops sultry video for her new single 'Something'
Boomplay partners with AirtelTigo to make music streaming more affordable
'Betting deal is a straight no for me' - Joe Mettle (VIDEO)