DIY Recipes: How to make Sausage rolls
This recipe is yummy and very delicious.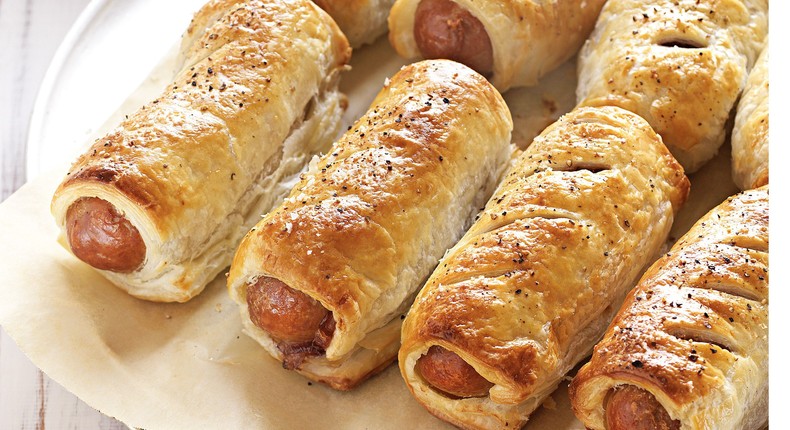 You can serve this snack with and beverage of your choice.
1 tablespoon of olive oil
2 red onions, halved, thinly sliced
1 1/2 tablespoon of brown sugar
2 sheets frozen ready-rolled puff pastry, partially thawed
Preheat oven to 200°C. Line a baking tray with baking paper.
Heat oil in a non-stick frying pan over medium-high heat. Add onions and cook, stirring often, for 10 minutes or until tender. Add sugar. Cook, stirring, for 5 minutes or until caramelised. Set aside for 5 minutes to cool slightly.
Cut each pastry sheet into 4 squares. Place 1 square on a workbench. Brush 1 edge with egg. Spread 1 tablespoon of onion mixture over the pastry. Top with 1 sausage. Roll up pastry to enclose sausage, with an egg-brushed edge on top. Press to secure.
Place, seam side down, on a tray. Repeat with remaining pastry, egg, onion mixture and sausages. Brush tops with egg. Score with a knife. Sprinkle with pepper.
Bake for 20 to 25 minutes or until sausages are cooked through and the pastry is golden.
Serve with any beverage of your choice.
Recommended articles
Hickies after sex? 4 quick ways to get rid of this love bite
How to dress stylishly for your birthday inspired by Anita Akuffo
For men: How exercise affects your testosterone levels
4 best ways to use rosemary for hair growth
7 body parts you must clean every day to avoid body odour
5 simple ways to make your first date a pleasant experience
DIY Recipes: How to make plantain crepes
Stylish corporate workwear looks to rock this week inspired by stylist Akosua Vee
How no verification casinos are responding to increasing security concerns