We'll win 2024 elections; stay focused – Bawumia charges NPP supporters
Vice President Mahamudu Bawumia has called on supporters of the New Patriotic Party (NPP) to keep trumpeting the good works of the government.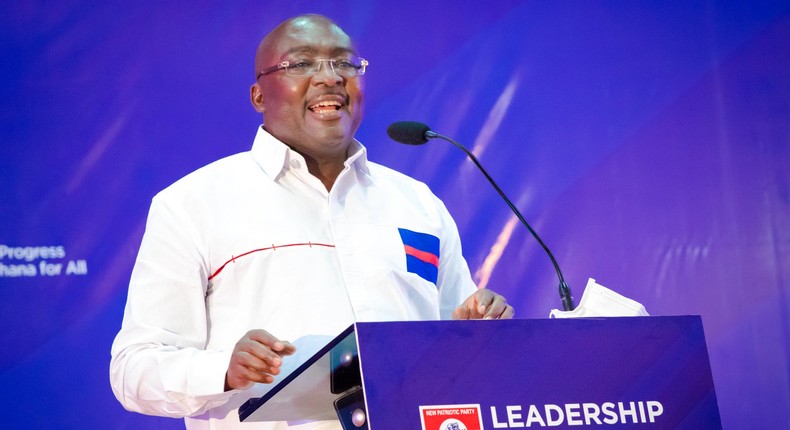 The flagbearer aspirant said the governing party is poised to retain power in the 2024 general elections.
Bawumia, who spoke to the party faithful on the back of a visit to a limited voter registration centre in the Eastern Region on Wednesday, September 27th, said the signs were clear that the party would record a remarkable victory at the December 2024 polls, hence the need to work hard and stay focused.
"I am happy that you have come out to meet me today for this important national exercise. It tells me that the party is very alive and very strong.
"One of the things that we need to know as a party is that we are going to win the 2024 election. Do not have any doubt in your mind. We will have to work hard, no doubt we will have to work hard, but it is possible to break the 8.
"We are going to break the 8, and we will need all of your efforts for us to break the 8. Let us keep focus as a party. Don't be distracted by events. Stay focused on the main task, which is to break the 8," Bawumia added.
"Let nobody distract us. We are going to win, so let nobody distract you. Focus, focus, focus on breaking the 8 in 2024. It is possible!" he declared.
Bawumia underscored the importance of the exercise to Ghana's democratic growth and commended the Electoral Commission for satisfactorily discharging its duties so far.
"It is very important that we get everyone who is eligible to vote, to come and register to vote in the upcoming District Assembly elections and the General Elections in 2024. We want to make sure that everyone has the opportunity to register," he said.
Bawumia, who has also visited centres in the Greater Accra and Central regions, suspended his nationwide engagement with NPP delegates ahead of the party's upcoming presidential primaries to enable the party to concentrate fully on the registration exercise.
JOIN OUR PULSE COMMUNITY!
Recommended articles
Anas Aremeyaw Anas to premiere new investigative exposé in January
Fire engulfs french-line section of Kumasi Central Market
Over 300 victims of Akosombo Dam Spillage resettled at Aveyime-Battor
Ghana Card confronting challenges of informal economy such as identity fraud, age cheating – Bawumia
Demolition leaves residents in santeo, Kpone Katamanso homeless
2024 Polls: PNC set March 24 to hold presidential primary
Anita Kiki Gbeho appointed deputy Head of AU-UN mission in South Sudan
Asanteman SHS, Kumasi Girls, and 5 other Headteachers interdicted in the Ashanti Region
We will strengthen Ghana's extractive industry for economic prosperity -Mahama