<scriptid="mct-script"src="https://app.mycountrytalks.org/embed.js"data-iframe-src="https://app.mycountrytalks.org/talks/9b3c8cc1-8a05-4fa0-bcc2-edef9d8b28d1/join?starting_question=1153"async></script>
Singer and husband misunderstanding spiritual – Pastor
In April this year, Teebillz in an Instagram post, accused her wife of sleeping around with Don Jazzy, 2 Face Idibia and Dr. SID.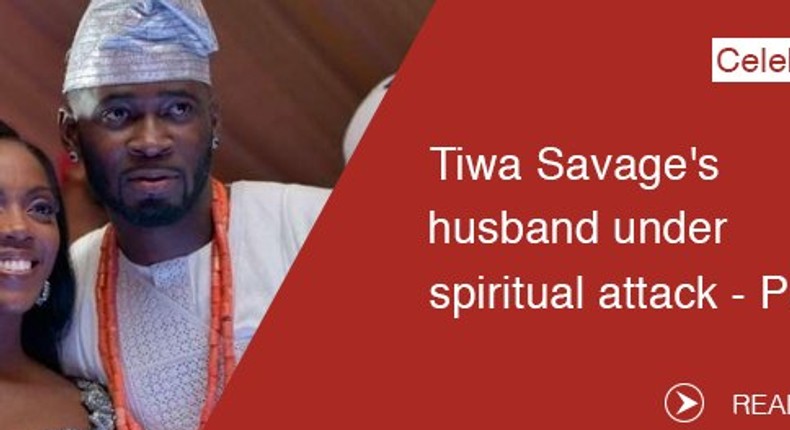 Secular-musician-turned-pastor, Felix Aigbe Libarty, has stated that the recent
According to the publication, Teebillz is under spiritual attack and will be best if Tiwa Savage returns to him.
"It's one thing to be famous and another to know how to manage fame. I want her (Tiwa Savage) to go back to her husband immediately because there is no divorce spiritually except when the man is no more. I want her to know that if God wants to announce any woman that is matured, He will always match her with a man. In this case, that is what God has done for her.
"I want Tiwa Savage to begin to understand that whatever is happening to her now is an attack from the pit of hell. Her husband is in deep trouble. I am sure that his pastor has not been able to tell him that he's under attack. The devil may not attack you directly, it will attack your partner. Spiritually, as I am seeing it, her husband (TeeBillz) is under attack.
"Every behaviour her husband is exhibiting now is manipulated. The Bible says, you have to be there for your husband, and your husband will be there for you."Whatever that is going on now, remains the fact that your husband is being manipulated by spiritual forces that doesn't want you to grow. And by the time you walk out of your marriage, you are giving the devil the opportunity to destroy your life completely" Felix Aigbe Libarty is quoted to have said.
The post which seemed to send an information of an end to their relationship made several 'revelations'.
Tee Billz claimed that Tiwa Savage's mother is a witch and has been fighting him spiritually for some time now, adding that Tiwa Savage will never know peace in her music career.
"Within what period of time did you F**k jazzy and Dr Sid. And I didn't care because the love I have for you. I looked at it that we all have a past even when at this same f**king time you were f**king with 2face… Please just take care of JamJam. I sacrificed my life for you and put in work and my money to your success. You are Tiwa Savage the super star now right. You will never have peace with that fame. Your mother wants to turn me to what she turned your DAD to? I will rather Die. Ask her to confess what she's done to me! All I did was look out for your success and forgeries g who I am," the post read.
In response, Tiwa Savage stated that the marriage was filled with infidelity, emotional abuse, drug use and mismanagement of funds. She dispelled claims that she slept with Don Jazzy, Dr Sid and 2Face.
"I will say for the record I have never cheated on my husband, never, not with Don Jazzy, not with Dr. Sid, not with 2face, not with anybody. I am willing to take a lie detector test" said Tiwa Savage in a video interview conducted by Azuka Ogujiuba of This Day Newspaper.
JOIN OUR PULSE COMMUNITY!
Recommended articles
Rick Ross declares interest in Ayra Starr
Here are the number of times you need to have sex to get pregnant according to research
10 African countries with the lowest digital quality of life index
Study shows men have been peeing wrong; they ought to sit and not stand
Shaffy Bello opens up about her split from husband after 25-year marriage
Akufo-Addo to address nation tonight on Covid-19, IMF deal
Polytechnic student commits suicide after losing his and roommate's fees to betting
E/R: Vehicle plunges into river, killing three
8 persons arrested by Police at NDC primaries for various offenses