Touching pictures of mother gorilla cuddling child a week after her death
A touching but tragic picture went viral recently, when a mother gorilla clutched her dead baby a week after her death.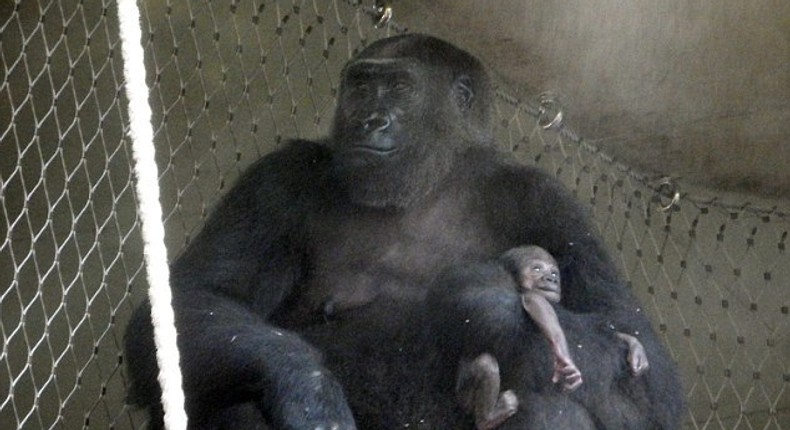 The gorilla called Shira walks frantically through her cage at Frankfurt Zoo in Germany, desperate for her dead baby to wake up.
Grief is etched on her face as she carries her, cuddles her and sometimes shakes her.
"Last Thursday she was OK in the morning but in the afternoon she suddenly and without warning died. We have as yet no idea what caused it." Zoo director Professor Manfred Niekisch said
But her toddler died after a week and she cannot fathom why. At night she lays the dead gorilla across her stomach and wakes up with the same perplexed look on her face when her baby doesn't stir.
Niekisch said of her all-too-human reluctance to relinquish the baby: "This is often the case with gorillas. The bond between mothers and their babies is particularly close.
'Shira needs time and space to come to terms with her loss.' The baby is the second that she has given birth to - and tragically, the second to die."
In May last year her son Tandu died at the age of six months after catching a lethal viral infection. Then, like now, she cuddled and cajoled him to wake up in vain.
Then, when she realised all hope was gone, she laid him in a quiet corner of her enclosure and walked away to mourn alone on her bed.
'We will wait until she gives the baby up, retrieve it and find out what killed it,' added Niekisch.
JOIN OUR PULSE COMMUNITY!
Recommended articles
'Go and sin no more' – Court cautions Evangelist for fingering, fondling woman
Police on manhunt for man who raped 90-year-old mother
12-year-old school dropout turns preacher to get money to feed sick father & grandmother
Man storms female MP's bedroom with machete: "He told me to face the wall & say my last prayers"
"Whoever said CS surgery was very painful lied" - Vera Sidika says after giving birth
Ghanaian man says he's lost love for "very beautiful" wife of 7 years who loves him so much
Boy, 13 with disability who crawls over 4 hours to school is among the top 4 in class (video)
My husband's side chick wants him to send her abroad or she'll tell me about her pregnancy - Woman
12-year-old girl single-handedly carries pregnant mom in labour across lake at night to hospital