Religious leader having sex with colleagues in the temple (Video)
It is reported that Kai Hungs jilted ex-lover, Shan Zhi leaked the footage to take revenge on him.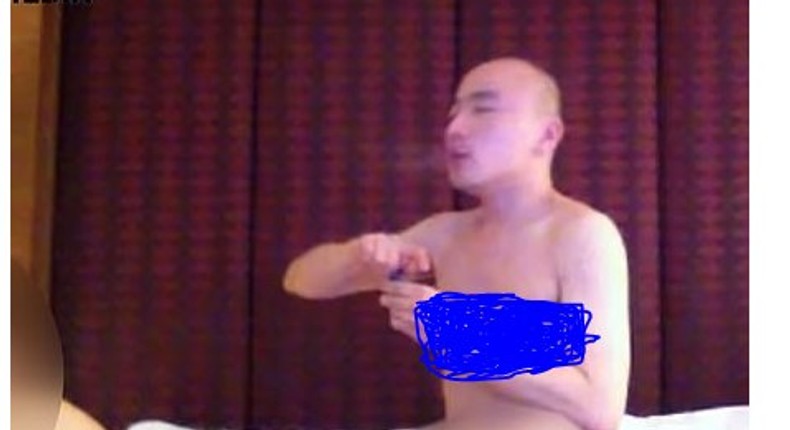 A viral video shows Taiwanese Buddhist master having drug-fuelled gay sex parties with other monks inside the temple.
Reports say one of the monks, Shan Zhi leaked the sex tape to take revenge on their master.
He was reportedly Kai Hung's jilted ex-lover who had become a monk in order to be with Kai Hung.
According to reports, Buddhist master Kai Hung, 29, was once an aspiring figure in Taiwan's religious world.
However, in the leaked video that has been described as scandalous, he is seen making very sexual statements like "do you want more", "I love my husband" and "my husband is super amazing".
Kai Hung who is seen in other videos taking drugs is said to be noted for his addiction to hard drugs and having gay sex parties with other monks in the temple.
The sacrilegious act had been kept secret among the monks until the aggrieved Shan Zhi chose to leak the footage.
Mirror Media reported that Kai Hung had had a total of 200 gigabytes of footage filmed of his master's wild sex orgies, but only three of the tapes have been released so far.
Taipei Times claimed to have had information from the Taiwan's Criminal Investigation Bureau that Police raided the Chongfo Temple on Tuesday and arrested Kai Hung following the leakage of the sex tape.
Officers reportedly found 19 grams of amphetamine tablets in Kai Hung's chamber as well as Viagra and condoms.
What is even more interesting is the fact that the officers discovered that Kai Hung had replaced the holy water in his room with lubricants, which he ostensibly uses for his sexual acts.
JOIN OUR PULSE COMMUNITY!