Woman visits hospital wearing giraffe costume as protection from Coronavirus
In this era of Coronavirus scare, people are ready to do just anything to protect themselves from contracting the deadly virus.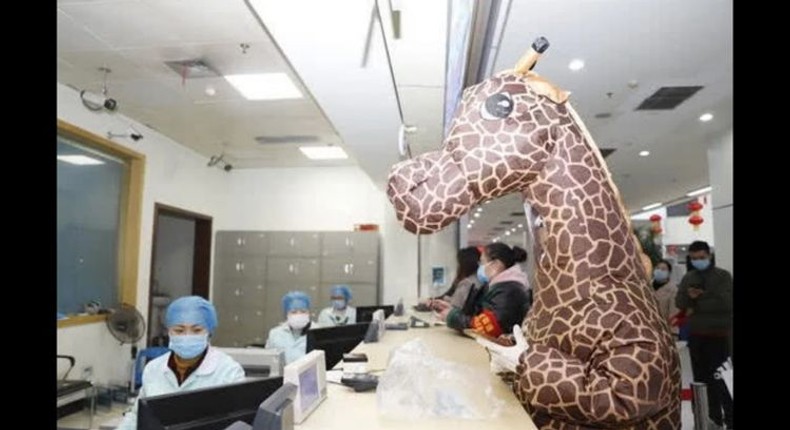 A Chinese woman went viral recently after being video-recorded while visiting a hospital in Luzhou, China's south-western Sichuan Province, in a rather unusual getup – a giant inflatable giraffe costume. In the short clip posted by Chinese video platform Pear Video, the woman can be seen walking around in the awkward brown plastic costume with only a small window of clear plastic film to see through.
According to Odditycentral.com, the woman identified as Ms.said that as the strongest member of her family, it fell to her to visit the hospital where her father usually treated his respiratory problems before the coronavirus epidemic and ask his doctor to perform a virtual checkup, through a webcam.
She did put on an expired medical mask she had lying around the house, but fearing it wasn't enough to protect her, she decided to put on the plastic giraffe costume as well.
"I have been wearing this mask for a while," Ms He said about her face mask, which had expired in 2017. "There's no face mask available for sale."
The hospital staff filmed the development and it has since gone viral on social media.
JOIN OUR PULSE COMMUNITY!
Recommended articles
Serious prayer & tongue-speaking by passengers as aeroplane develops fault mid-air (video)
I've accepted marriage proposal of my friend's boyfriend but I'm feeling guilty - Lady cries
Ghanaian man cries out after thieves broke into his shop and stole 2 coffins (video)
Man who scored 9 'Fs in chain' graduates from university with first-class degree
Man sets Guinness World Record after lifting a woman weighing 63.80kg with his beard (video)
Man reports his close friend to authorities for getting rich overnight
19-year-old girl stabbed multiple times in Accra after catching her brother & mother having sex
Pressure mounts on SDA pastor to resign for saying "the best person to rape is your wife"
Scientists say a proper hug must neither last less than 5 seconds nor more than 10 seconds