How to prepare beans stew and boiled ripe plantain
Pulse daily DIY recipe teaches prospective chefs how to prepare healthy, Ghanaian dishes in a simple way.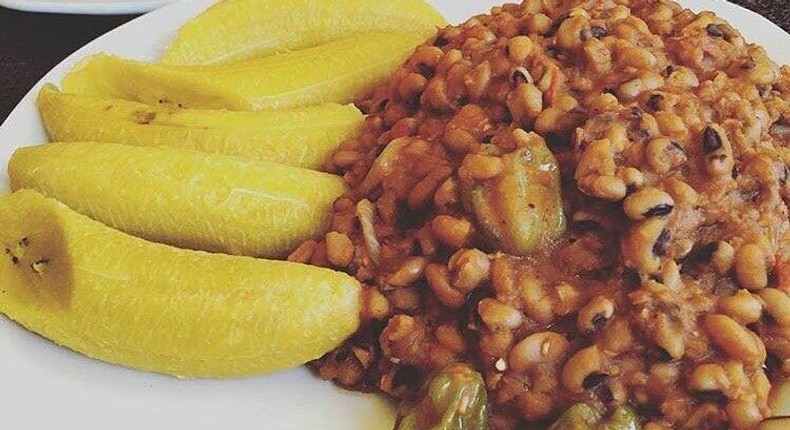 Ripe plantain
Tomatoes
Medium sized salmon
Onions
Scotch bonnets
Cloves of garlic
Palm oil
Vegetable oil
Salt to taste
Ginger
Red beans
2. Soak beans in water for one hour. Then boil until the beans are soft. Add more water when necessary until the beans are cooked and drain them in colander.
3. In another saucepan,heat the oil and add the onions, garlic, ginger and pepper until all the liquid evaporates.
3. Add the blended tomatoes. Remove all the bones from the salmon and add while stirring intermittently for 15 minutes.
4. Add salt and the cooked beans to the stew and stir. Lower the heat and cover saucepan
5. Cut both ends and cut through skin length-wise. Peel ripe plantain. Cut into desired sizes.
6. Boil in salt water. Check after 6-10 minutes if the plantain is soft and drain off water.
7. Serve plantain with beans stew.
Get our Top Stories delivered to your inbox
Recommended articles
DIY Recipes: How to make Sausage salad
The best celebrity pictures on Instagram this week
Hair extensions may pose a fire hazard
Bad date? 3 sneaky ways to escape from this uncomfortable situation
Yvonne Okoro's birthday photos prove she is peng
​Turmeric: 6 unique ways to use this ingredient
30% off everything at Lyoly
6 clear signs he wants to marry you
Women, this is why you should learn to initiate s*x more in your relationship