DIY Recipes: How to make Ga kenkey with sauce and fried fish
Ga kenkey with hot pepper sauce and fried fish is a popular street food in Ghana.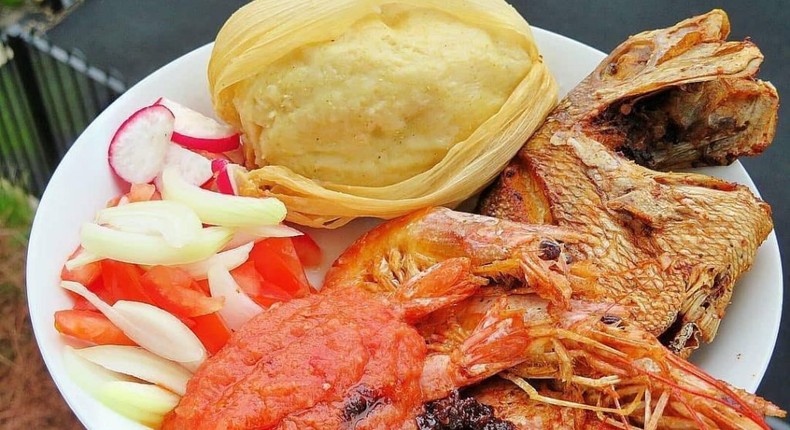 It is one of the favourites of the Ga community. This recipe is delicious when served with sardines too.
Cassava dough or Agbelima (optional)
In a large container cover the corn with just enough water to dampen all of it. Set it in a warm place, such as a warmed oven or on top of the refrigerator, for 5 days. Fermentation may take longer than two days, especially in cool climates.
When it is properly fermented, it should have a slightly sour, but not unpleasant aroma, rinse and grind the corn.
Knead the fermented dough with your hands until it is thoroughly mixed and slightly stiffened. Divide the dough into two equal parts.
In a large pot, cook one part of the fermented dough. Cook for about ten minutes, stirring constantly and vigorously. Remove from heat. This half of the dough is called the "aflata".
Combine the aflata with the remaining uncooked dough. Mix well.
Divide the mixture into serving-sized pieces. Wrap the pieces tightly in corn husks, or foil.
Cook the wrapped pieces for 30 to 60 mins, depending on their size and thickness. Set aside once it is ready.
Grind the onion, tomatoes and green chillies together, and grind until smooth, but with a little texture remaining in the sauce. Add Salt to taste
Season and fry your fish with some garlic, ginger, salt and pepper.
Serve the kenkey with pepper sauce and fried fish.
Recommended articles
DIY Recipes: How to make soy milk
Planning a wedding? Here are 4 mistakes to avoid
Low sexual satisfaction can make men have memory decline - Study
Menstrual hygiene: Here's how to wash your period panties properly
DIY Recipes: How to make cornmeal doughnuts (Awiesu)
For women: 4 simple tricks to make a man fall in love with you
10 trending Kente styles that took over the 'gram in May
Study shows men have been peeing wrong; they ought to sit and not stand
Here are the number of times you need to try to get pregnant, according to research