Here's how you can easily make this small chop
Puff puff is the spongy and puffy snack in small chops. Here's how to make it.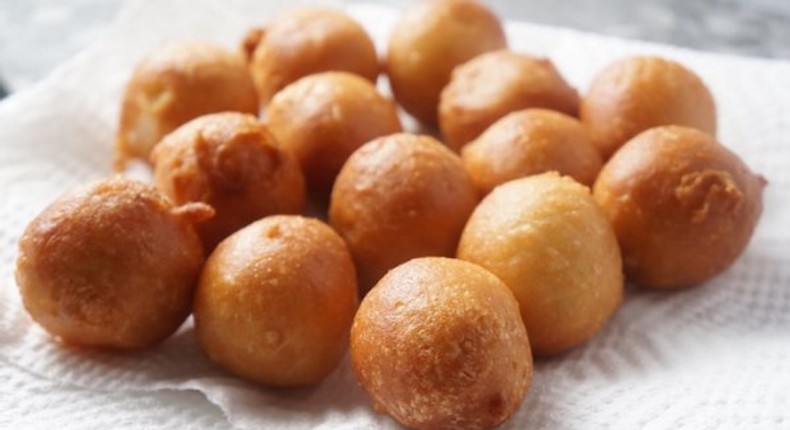 Puff puff is that round, elastic, compressible, deep fried snack in small chops pack.
Puff puff, like the name, is puffy and tasty and can serve as either an appetiser or a main dish.
Although quite easy to make, it can get a little tricky if you do not follow the instructions especially when it comes to the addition of the yeast. However, with the right measurement and conditions, you'll have more than just quantity but quality puff puff sinking its way down your belly.
3. ½ teaspoon grated nutmeg
4. 2 tablespoon sugar (or more)
7. Vegetable Oil for frying
1. Put the flour, sugar, salt and yeast (dry ingredients) in a bowl. Mix well.
2. Add water in bit and mix properly until you have a fine and smooth blend of all the ingredients. The batter should be semi liquid. (Make sure it doesn't get too watery to avoid the puff puff soaking up all the oil).
3. Cover the batter with a clean towel or aluminium foil. Make sure it is airtight. Leave for about 30 minutes to rise.
4. Deep fry the puff puff by scooping it with your hands and gently dropping into hot oil.
There you go. So easy and stressfree.
Enjoy your puff (hot or cold)!
Recommended articles
The best celebrity pictures on Instagram this week
DIY Recipes: How to make soy milk
Planning a wedding? Here are 4 mistakes to avoid
Low sexual satisfaction can make men have memory decline - Study
Menstrual hygiene: Here's how to wash your period panties properly
DIY Recipes: How to make cornmeal doughnuts (Awiesu)
For women: 4 simple tricks to make a man fall in love with you
10 trending Kente styles that took over the 'gram in May
Study shows men have been peeing wrong; they ought to sit and not stand