Q&A with EL SEEd (2)
Using the uid, graceful lines of Arabic, French-Tunisian street artist el Seed has taken his messages to public spaces all over the world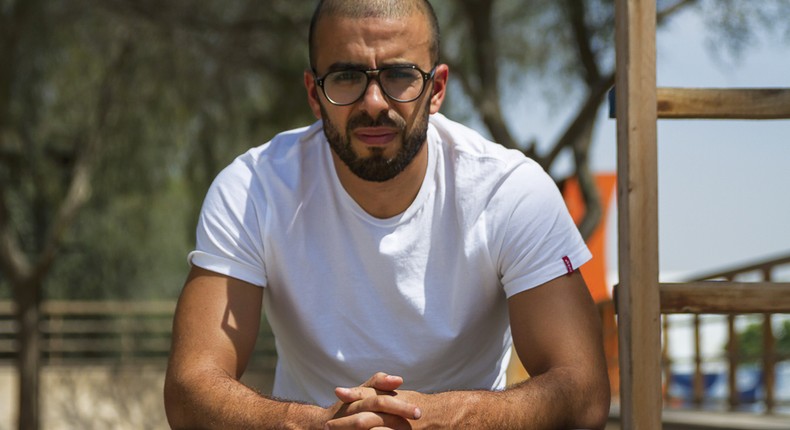 Writer: Jens Martin Skibsted
Images: Courtesy of eL Seed.
You used to do a lot of B-boy dancing. Do you find a similar fluidity in your calligraphy?
Some people say it's like choreography because it's big movement, everything is made freehand – when I paint a wall and I make some really long line I really need to get on my knees and then go up. I want to film that and put in classical ballet music. Yeah, I think there is a link between them, between the energy of the line that I draw and the movement. It's a dance.
What role does Africa play in your work and life?
The word Africa comes from Tunis, because the Romans used to call part of Tunisia Ifriqiya, and this little piece of land gave the name of the continent. So I have deep African roots. It is where I come from and a big part of my identity.
The sad thing is, North African people, they're most of the time attached to the Middle East, when they should be attached to Africa. I hadn't thought of my roots as African until I went to Cape Town in 2012 and saw and met so many Africans from all over the continent in one place. It was incredible. I was asked to speak at the World Economic Forum Africa and went, because I had never been and really wanted to go to South Africa.
While I was there I yearned to paint there and leave something of me in South Africa. We were driving past a township and I asked the driver to stop and I met a man and told him I wanted to paint in this place (Philippi). He called someone, who I guess was the godfather of the place, and he told me to come back on the Wednesday at 2pm. So I did, and he had arranged for me to paint a wall of a school in Philippi. It was amazing, there were kids all around me, helping me. I later gave a workshop in a school in that township. I have a beautiful picture of my experience there that I will always cherish.
From that time on, the whole of Africa has become a part of me. I'm planning to spend far more time on the continent.
Do you feel your work is religious?
No, I don't. Arabic calligraphy has this connotation because it has been developed through this restriction of not painting living beings. That's why Arabic calligraphy went so far. So there is a link between my work and the old holy calligraphy. But the goal of my artwork is to bring people and cultures and generations together. I'm not here to convert anybody, that's not the goal. When I used a verse from the Koran on the minaret it was because it was the most relevant message to put on the mosque. And the funny thing is this message, this verse, was addressed to all humanity. It started "All human kind...", not "All you Muslim people" or "You believers". "We have created you from a male and a female and made you people and tribes, so you may know each other."
You have said that you found some of your Frenchness by studying Arabic calligraphy?
They actually teach you in France that you cannot be both. And the funny thing is, getting back to my Arabic background and my original Arabic culture brought back this French part of me that I never expressed. Two years ago I bought the jersey of the French soccer team – I would never wear it before, I surprised myself. So then I noticed that I fully express my French part and I'm not ashamed of that. One of the worst insults when we were younger was to be [called] French, you know. In the same way they rejected us, we rejected them. But when you grow up you see not everybody is the same.
You're identified with calligraffiti. Will it live on?
I went to Saudi Arabia a couple of years ago and met some graffiti artists, girls and guys, and they were always painting like they were living in the Bronx or LA. I said, "Why don't you paint Arabic?" And they told me it doesn't exist. I said, "Guys, I've been painting in Arabic for years now. You need to be proud of what you've got, you're a strong culture from history... use it in your artwork and show it to the world." But I'm not the only one who's doing calligraffiti and the word was not created by me. And I know that there are people who are doing it in India already, people doing it in China, using their own script and turning it into graffiti.
Recommended articles
3 reasons you need to start wearing lingerie
3 overnight tricks to flatten your bloated stomach
For women: 6 things you should know about pregnancy tests
DIY Recipe: How to make Dzenkple
5 types of people you should never date
The best celebrity pictures on Instagram this week
Dear women, here are 5 things you do that men find confusing
4 side effects of drinking alcohol excessively
DIY Recipes: How to make goat meat jollof rice for Africa Day