Ladies, bridesmaid's duty is not by force
Let's talk about weddings, bridesmaids duties and the uncomfortable responsibilities they come with it.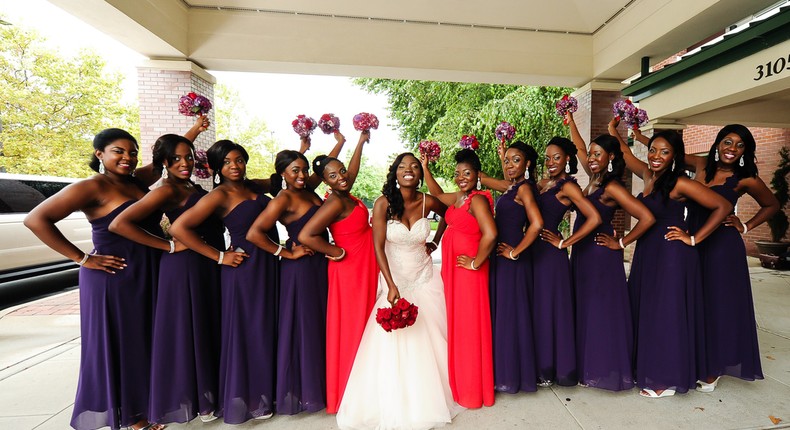 The beauty of well organized wedding ceremonies can never be overrated.
And as much as weddings are fun, cool and beautiful and desirable to the point that everyone wants to be involved and part of them, there is a limit to where you can go with that.
Agreed, it feels so cool and quite lovely to be asked to join bridal parties and ladies do love this a lot.
Such is its importance that some do [stupidly] believe that if you are 25 and have never been involved in a bridal party – either as a chief bridesmaid, or just a bridesmaid - you are not doing well as a young lady.
And that is exactly where the problem lies - the attachment of that much significance to something that's as fleeting and time-limited as being part of a bridal party for a ceremony that lasts 12 hours, max.
Ladies, it is cool to be part of these parties and to have a closer feel of what a wedding feels like and all, but please don't overstretch yourself and your resources to be part of every single one you get an invite to join. Especially if you obviously can't afford that life.
These things cost a lot, as you might know.
Getting involved in a bridal party means you go for the bridal shower, maybe the pre-wedding lunch, the wedding and the reception. Each of these probably means wearing a different costume, dedicating time and spending a lot of money.
It's a lot of commitment that you absolutely don't have to break your back or bank to get involved in.
Yes, there are special cases that can't be turned down, such as a close family member or best friend but that does not negate the truth here -  all opportunities to be part of bridal parties cannot be accepted.
It brings us again to the culture of showiness that has somehow become the norm in our society.
People are trying to be what you are not so as to please people. Being immoderate with one's resources so as to impress people is not right. Don't hop on that train.
Even brides and grooms often tend to have society weddings when they obviously do not have deep-enough pockets for that.
Don't give a damn about what people will say about your wedding, or what other babes will say if you don't join a bridal party that's higher than your budget. Ask yourself, will this matter in six months?
And this goes for guys, too. [Although, the stress isn't that much for guys.]
Dear Queens, the only wedding that requires to compulsorily show up or wear a special dress is your own.
Any other one, please don't kill yourself trying to fit in. No be by force to slay.
JOIN OUR PULSE COMMUNITY!
Recommended articles
How to make tasty prawn crackers at home
10 female celebrities who do not show 'skin' in outfits yet stay sassy
DIY Recipes: How to make Chicken peanut stew
The best celebrity pictures on Instagram this week
Can't be Ghana: Here's what was served at Kourtney Kardashian's wedding reception
Wedding on a budget: When should you start planning your wedding?
5 best ways to treat under-eye puffiness at home
How to make crispy and creamy doughnuts in your kitchen
DIY Recipes: How to make Chicken cheese sandwich