A high ranking member of the governing New Patriotic Party (NPP), Gabby Asare Otchere-Darko, has claimed that the CEO of Menzgold Ghana Limited Nana Appiah Mensah has absconded.
According to him, the young business mogul has already breached his bail condition after going AWOL for months.
In a Facebook post, Mr. Otchere-Darko, who is the nephew of President Akufo-Addo, called for the re-arrest of NAM 1.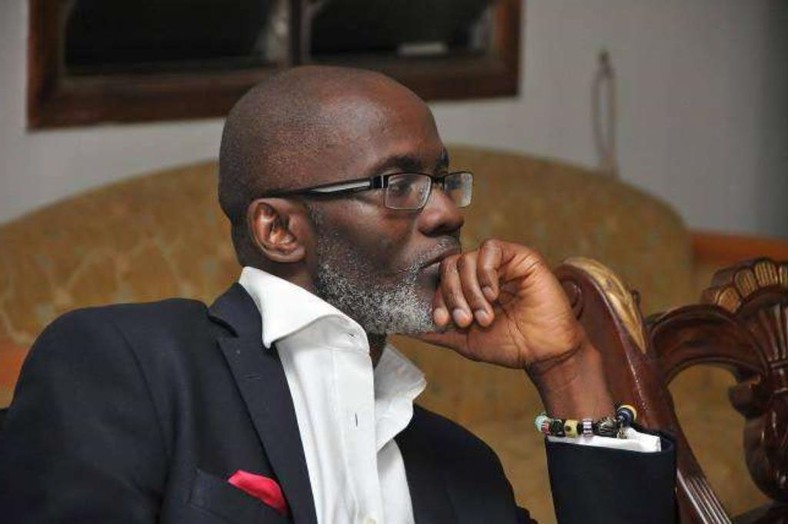 He said the Menzgold CEO must not be allowed to go scot-free after messing up the lives of many people with "this Ponzi matter".
He wrote: "I understand the owner of Menzgold, Nana Appiah Mensah, has breached his bail condition and absconded. We can't allow those who allegedly dupe people with such impunity to get away with it that easily.
"Let's smoke them out, wherever they are, and throw the book at them! While, I will not want a pesewa of my tax money to be involved with this ponzi matter, I believe majority of Ghanaians will agree with me that the law must come down heavily on those who use such schemes to destroy the lives of many people."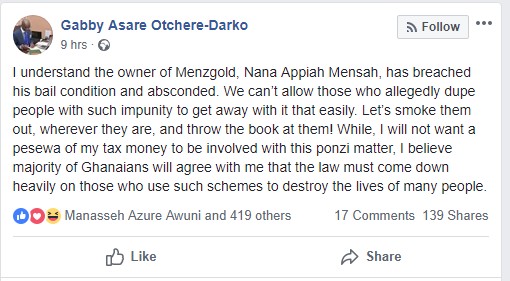 Menzgold has been in the news in recent times following the company's troubles with state regulatory bodies over its operations.
The Central Bank and Minerals Commission maintain that the company has been taking deposits and locally selling gold despite not having the requisite license to do.
However, the seriousness of the issue was confirmed last September when SEC directed the gold dealership firm to shut down its gold trading activities.
Currently, the operations of the company remain closed to the public, with several customers agitating for a refund of their investments.
Yesterday (Tuesday), there were fresh protests as aggrieved customers hit the streets once again in Kumasi in the Ashanti region.
The protestors blocked access to Adum from Amakom and demonstrated in front of the company's Amakom office amidst burning of lorry tyres.
The demonstration comes after several failed attempts by the aggrieved customers to retrieve their investments from Menzgold.