Road constructions begin in Assin North a day after EC announced by-election date
Just like witnessed in Kumawu a few days ago, unexpected road construction projects have begun in Assin North just a day after the Electoral Commission announced June 27 as the date for a by-election there, leaving constituents in surprise.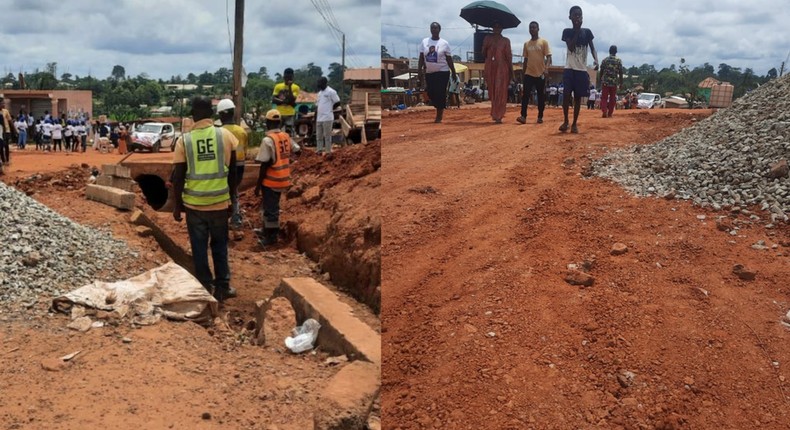 Ciitinewsroom.com reports that some roads within Assin Bereku, the district capital of Assin North, are currently being repaired.
According to the news website, some residents of the constituency who spoke on condition of anonymity said they were happy to be getting their share of the national cake, but James Gyakye Quayson deserves the credit for it. In their view, although the road projects are being undertaken by the government, it is doing it because of pressure from him.
"We are not surprised that they are constructing the road. We will give thanks to James Gyakye Quayson for giving the sitting government pressure. When Jesus Christ died mankind benefited and that is the same way James Gyakye Quayson has done.
"Our roads since 1996 have not been good, and it has not been any better till today. So, if they are fixing our town roads it's because of Gyake Quayson," the residents are quoted as saying.
Their fear, however, is that after the by-election, the roads might be abandoned again since the ruling government which is bent on going above and beyond to win the seat is using it to bait them for votes.
"But the question we want to ask is whether they will continue with all the developmental projects even after the by-elections. Gyakye Quayson has said it already that he will give the NPP government pressure to do the needful, and so he deserves the needed applause."
Pulse Ghana
The by-election has become necessary after the Supreme Court ordered the removal of Gyakye Quayson from the records of parliament, saying at the time he contested and won the seat in 2020 to represent the Assin North constituency, he was still a Canadian citizen.
Two members of the ruling NPP, Fredrick Amoah Kyei and Charles Opoku have picked up nomination forms, which they are expected to submit today, Thursday, June 1 to pave the way for internal processes to determine who represents the party to battle with the NDC's Gyake Quayson for the controversial Assin North seat.
Recommended articles
#OccupyBoG: Demonstration scheduled for Tuesday, court rejects police request
122,275 personnel for 2023/2024 deployed for service -NSS
Tensions flare as Ghanaians in London stage dueling protests over bad governance
Kufuor raises concerns over factionalism within NPP
Jean Mensa, Bossman Asare pose biggest threat to Ghana's democracy – Sam George
Election 2024: Reject Alan's empty political tactics — NDC's Afaglo
Health Ministry summons management of Korle-Bu over GH¢765 cost of dialysis
Korle-Bu to review GH¢765 cost of renal dialysis
Factionalism is dividing and killing commitment in the NPP – President Kufour