A/R: Residents of Oforikrom protest against dilapidated bridge
Some dwellers within the Oforikrom Municipality of the Ashanti region on Saturday, January 21 flooded the streets to protest what they describe as years of neglect by authorities.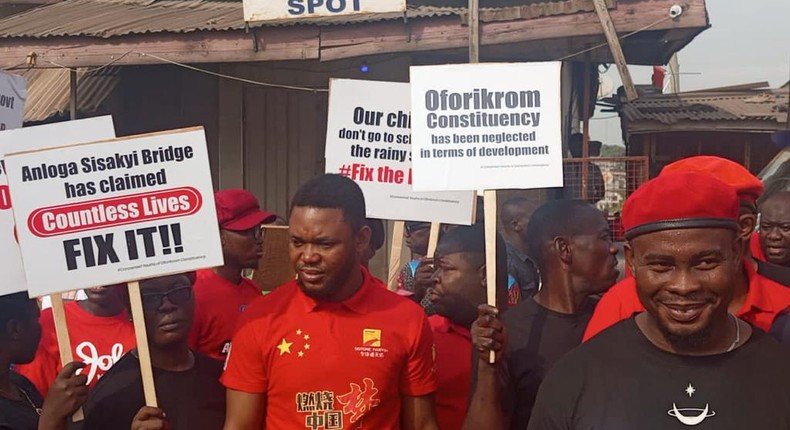 The Concerned Youth of Oforikrom, over the years, have lamented over being lagging in terms of development.
They have blamed the member of parliament and the MCE in the area for the underdevelopment in the community.
Pic 1 Pulse Ghana
Some dwellers in the community, have said that a woman got drowned in an attempt to cross the dilapidated bridge at Sisakyi within the Oforikrom municipality.
Despite numerous appeals to authorities by members of the area, urgent measures have not been taken to fix the bridge.
The Convener of the group jerry James Sukah, addressing the media said the residents could no longer take the neglect.
"We are citizens of Ghana, we pay taxes and must be treated as such. We vote leaders into power and are neglected after they get what they want. Enough is enough."
"We won't sit for this injustice to be done. We demand development in our area, and we demand it now."
The group demands authorities quicken work to ensure its completion before the rainy season.
Recommended articles
MTN Ghana to increase data prices effective February 7
18 unrealized pledge by Akufo-Addo, Martin Kpebu recounts
E/R: Troops deployed to calm residents pursuing nomadic herdsmen over murder in Mame Krobo
MP Ablakwa kicks court writ on the ground upon service by bailiff
A/R: 3 die in motorbike accident at Yaw Bronya
Reverend Kusi Boateng secures interim injunction against Ablakwa
Education Minister to face Parliament over SHS placement scandal
Arrested man in court for stealing girlfriend's Bible and pillow after she denied him sex
Who wins? NPP stalwarts eye presidential slot in 2024