Kayaye women chase NGO for relief items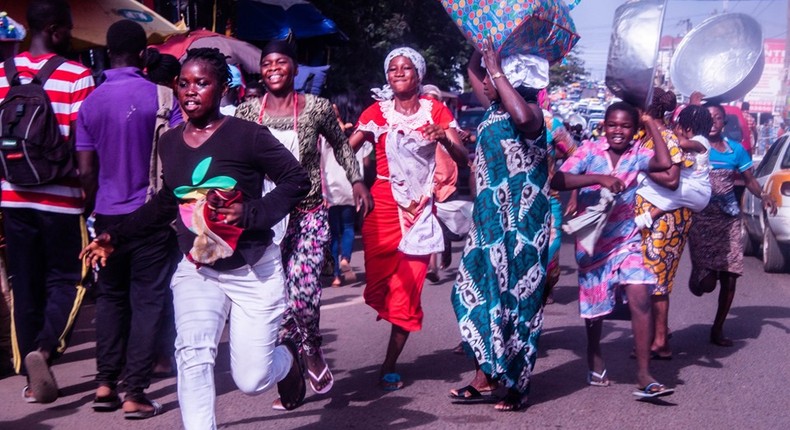 The Executive Director of the NGO, Adelaide Abena Frimpomaa, described the conditions of the 'kayaye' as worrying and needs collaborative efforts from all to solve it.
According to her, the NGO was set up to build the capacity of the street and homeless people through digital and vocational skills training to better their lives and fend for their families.
The main aim of the NGO, SHS Foundation is to be the mouthpiece of the people living on the streets as well as secure jobs and homes for them by building homeless shelter facilities across the country.
She recapped that, they aim to target head porters for their pilot project which would make head porters self-dependent aside providing formal education to their offspring.
This is because they believe when you impact a woman you impact a whole community.
Pulse Ghana
She said "As part of our goals to help and secure street and homeless people, we will be organising donations and medical screenings to other communities such as refugee camps, disabled and other people on the street. Thanks to everyone who donated, we were able to donate some new soft, comfy, plush blankets; mosquito repellent creams and babies netted Moses baskets for donation to counter the mosquitoes and cold of the rainy season".
Pulse Ghana
The Foundation, she added: "has made a lot of donations to the poor and needy. Life on the street is harsh and difficult. Most of these women and children on the street are victims of kidnapping, molestation, harassment, and rape. That is why we first want to target women. Knowing very well that the street is one of the breeding grounds for criminals who mostly for no fault of their get hardened by the very bad conditions on the street"
Pulse Ghana
She called on philanthropists and other organisations to join the Foundation to provide support to the street and homeless by improving their livelihood adding that the government and corporate bodies must support the education of needy children, including the 'kayaye'.
Female head porters often migrate from the northern parts of the country to urban cities in search of job opportunities or improved income activities with the hope of raising enough capital to invest in less labour intensive ventures.
Usually identified by their large pans and specially crafted headgear, they carry loads of goods bought by customers.
Pulse Ghana
 The rich and the poor alike seek their services but pay little. Often maltreated by their clients, they are paid what the client thinks they deserve.
Recommended articles
Stop celebrating Farmers' Day amid failing Agric sector, giving awards to loyalists – Alhaji Fawan
Akufo-Addo makes the top 50 World Leaders Twitter Power ranking
Akufo-Addo's no hair cut comment was very irresponsible - Dr. Amoako Baah
SIM registration: Individuals without Ghana Card not blocked — Ursula
18,127 people in Central Region living with HIV — AIDS Commission
Is Christian Council happy with Ofori-Atta quoting, abusing the Bible? – Selorm Branttie asks
We can't complete all 'Agenda 111' projects by 2024 – NPP MP
Girls are now giving s*x in exchange for sanitary pads - Eco-me Africa laments
Govt's debt exchange programme unacceptable — Nurses and Midwives Association