#OccupyJulorbiHouse sparks conversations about horrible state of Korle Bu Teaching Hospital
Ghanaians on social media have been raging about the poor state of the economy and the shambolic state of infrastructure over the past few years.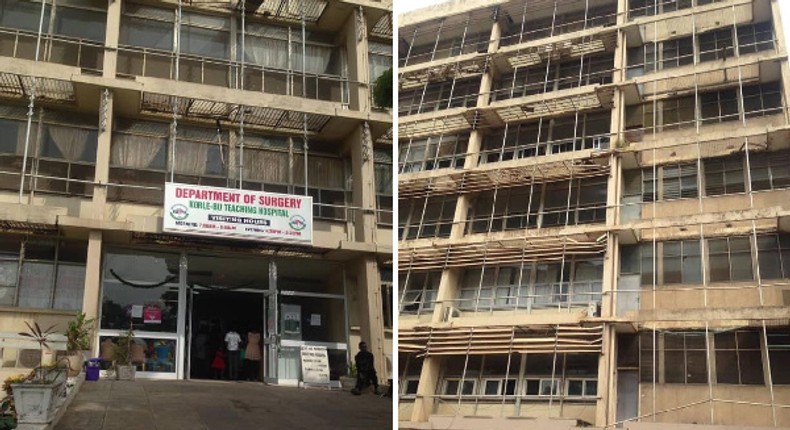 This rage culminated in a street protest christened #OccupyJulorbiHouse that spanned three days in the capital city of Accra.
Hundreds of youth gathered closer to the Jubilee House (the seat of government) to make their voices heard on the rampant corruption, high inflation and the deplorable state of roads and hospitals in the country.
Among the things some Ghanaians complained about is the sorry state of the country's premier hospital, the Korle Bu Teaching Hospital.
Parents lamented on how they had to sleep on bare floors in order to cater for their sick wards. Some also cried about the poor state of the surgical department at the Korle Bu Teaching Hospital and the lack of beds for patients and their guardians.
"This is the department of Surgery in Korlebu. Major surgeries are held here. From Brain surgeries to other types of surgeries. Look at the structure very well. I Stayed here for a month with Aiden and you can't imagine the trauma. To have an MRI or Ct scan done patients will have to be moved from this department to the MRI center on beds or wheelchairs worse case scenarios to centers outside Korlebu. As a mother who's son had surgery, I slept on the floor with Card board yup! Cos baby was in his cot. So you either sleep on the floor or sit. And oh if you're able to secure a bed? Then it's Praise Jesus," a mum lamented on Instagram.
Some doctors also showed how they use plastic water bottles to do CPAP (Continuous Positive Airway Pressure) for premature babies or new-borns with respiratory difficulties to aid them until they can breathe on their own.
Below are the experiences of some people in the sad state of Korle Bu Teaching Hospital and the use of plastic water bottles for CPAP.
JOIN OUR PULSE COMMUNITY!
Recommended articles
Eugene Arhin wins, Nii Lante Bannerman, Fuseini Issah, Ken Kuranchie, Afia Akoto loses
Sammi Awuku, Nana Ama Darkua, Akosua Manu elected NPP PC, Mark Okraku-Mante defeated
COP28: AFRIWOCC, UNDP partner to sponsor young Africans to the UN climate conference in Dubai
U/E: Farmers weep as bags of rice left to waste at Builsa
Prof. Kobby Mensah expresses fatigue in NPP with too many elections in a short period
Self-service check-in at Kotoka International Airport begins
NPP Primaries: Delegates raise alarm over alleged foreign voters
Late Akoto Ampaw to be laid in state on December 15
Charity Akortia, 57, adjudged 2023 National Best Farmer Award