Over 21 million Ghanaians vaccinated against COVID-19 – Ghana Health Service
The Ghana Health Service (GHS) has said over 21 million Ghanaians have been vaccinated so far against COVID-19.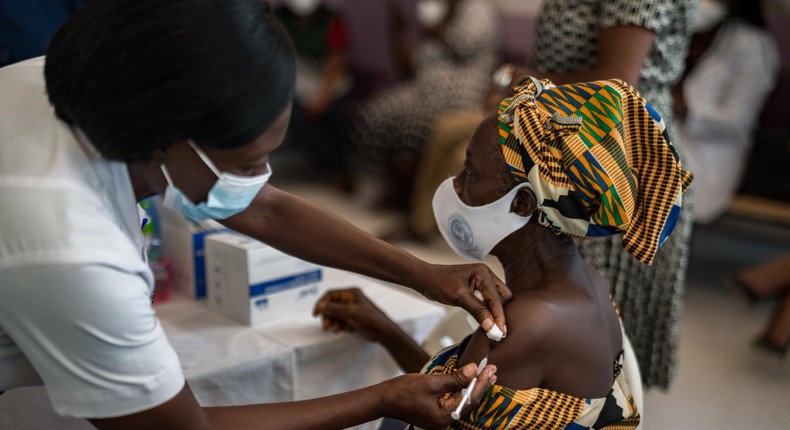 According to the health authority, the figure includes those with just one jab and those fully vaccinated.
The Director-General of the Ghana Health Service, Dr. Patrick Kuma-Aboagye said another round of mass vaccination will be carried out in January 2023, because several people have still not been vaccinated against the COVID-19 pandemic.
He said on Citi News that "We have done over 21 million now, by 2nd week of January 2023, we will do another campaign. In the last campaign we did in December 2022, we got about 1.5 million or so vaccination, so we continue to escalate, and we will also put out the new numbers on our website to see where we are. We still don't have enough people fully vaccinated."
However, authorities will toughen entry restrictions from January 6, 2023, citing an increase in COVID-19 cases in China.
All air travelers arriving from China will now be required to present a negative PCR COVID test result not older than 48 hours before departure, and undergo another test on arrival at the Kotoka International Airport (KIA) at no cost.
It said non-Ghanaians traveling to Kotoka international airport with fake vaccination certificates will be quarantined and returned to the point of boarding at their cost.
Recommended articles
A/R: Police fraternity, Senior officers bid farewell to Police officer who died in fire with family
A/R: Police on dragnet for other suspects, following the arrest of one person
Mahama rally support behind Ayorkor Botchwey to be next Commonwealth Secretary General
Reshuffling astute political leaders like Haruna doesn't come cheap – Gyampo says
NDC: Council of elders acknowledges receipt of petition by members regarding changes to leadership
FDA suspends Yellow Sisi waakye joint at Oyibi that killed one person
Ghanaian students on gov't scholarship stranded in UK over delayed stipend
Election 2024: National Peace Council urges NDC to return to IPAC
Man arrested for stealing generator from court