Video: Military storm Ashaiman to brutalise civilians after alleged killing of soldier
An unofficial curfew has been imposed on the Ashaiman community after some military personnel stormed the area over the alleged murder of one of their colleagues.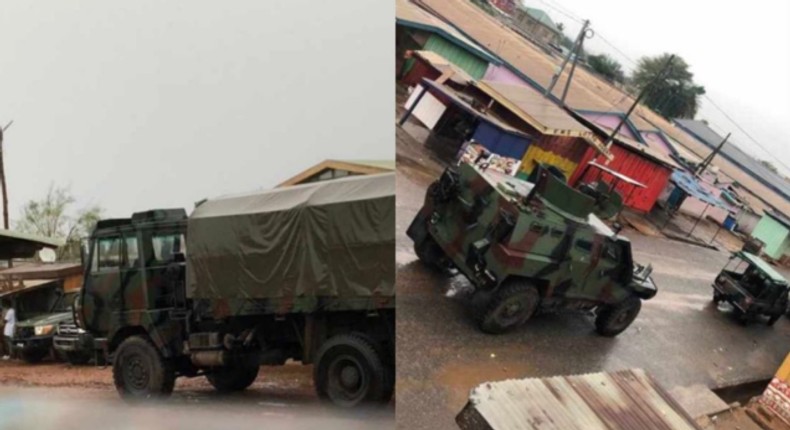 Reports emerged over the weekend that a uniformed soldier had been killed by some unknown assailants in Ashaiman.
In the early hours of Tuesday morning, while the rains were pouring, a group of soldiers stormed the community to enact revenge on civilians.
In videos that have gone viral on social media, the military could be seen beating up civilians at various points.
Another footage also showed the streets of Ashaiman dead silent, with many hiding in their rooms in fear of the soldiers.
Meanwhile, some Ghanaians on social media have given their reactions to the military's invasion of Ashaiman.
While some condemned the actions of the soldiers in beating up civilians, others also backed them to use such means to find the culprits of the murder.
One Twitter user wrote: "You k!ll soldier for Ashaiman and you expect the military not to show up?? Make dem lash everybody…"
Another said: "These things must be relegated to the past. Someone is killed, unfortunate, but let the police handle the investigation. It's not up to the military to deploy to 'terrorize' residents. Is it the whole Ashaiman involved in the crime?"
One other guy stated: "Ashaiman youth always messing up and doing unnecessary thing all in the name of "Ashaiman is hard town". The soldiers should lash them all."
The top brass of the military is, however, yet to release any statement on the development.
Recommended articles
CRPL-Ghana beseech speaker Alban Bagbin to withdraw inappropriate LGBTQ+ statement
Court Restrains Joseph Yensu from Contesting Aowin NDC Primaries over Fraud Allegations
Supt. Effia Tengey exits from Ghana Police Service
I followed the rules, i did nothing unexpected - Alban Bagbin
Parliament passes three new taxes
MP for Nanton involved in accident ahead of passage of 3 new tax bills
We have to win the 2024 elections for Jerry John Rawlings – Dr. Kwabena Duffuor
Humanitarian Awards Ghana announces 100 Most Impactful 2022 Change Makers
Bank of Ghana debunks media reports of introducing GH¢500 coin