Singer wants Jude Okoye kicked out!
Peter Okoye in a bunch of tweets says he no longer wants Jude Okoye to manage Psquare.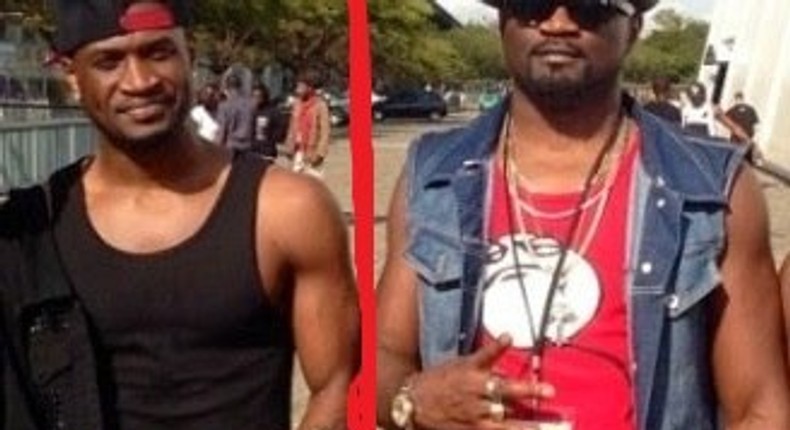 Yesterday night (February 16) pop star
In a series of tweets from the 34-year-old he ranted against his older brother and manager Jude Okoye while remaining loyal to his brother and singing partner
"I don't have a problem with Paul but the management" tweeted Peter Okoye. "My loyalty for psquare and the fans still remains 100%" he stated before adding "A manager is been employed by the artiste not the other way round. #truthBeTold."
The relationship between the brothers Peter Okoye and Jude Okoye has broken down to the extent that the singer tweeted a disclaimer stating that whoever does business with North Side Entertainment on behalf of Psquare is at his or her own risk.
"Pls who so ever makes any transaction with Northside Entertainment or Jude Okoye on Psquare's behalf does so at their on risk. #warning." If you are still doubting that Peter Okoye is fed up of Jude Okoye the pop star also tweeted this about the family run business "Family business can be pain in the a$$."
Read Peter Okoye's tweets below;
Jude Okoye and Paul Okoye have not reacted or responded to Peter Okoye's rant last night.
Jude Okoye has been the manager of Psquare since the group came into existence. On his Instagram page Jude Okoye's bio reads "President/C.E.O Northside Inc. Managers of Psquare & ."
This is the second time in two years that the Psquare brand has been involved in a public rift of sorts. In April, 2014 there were strong rumours that .
It was reported that Peter Okoye refused to do anything with Psquare because he reportedly felt his input and contributions were not being seriously considered. Some reports went as far as saying that a lawyer had been summoned to split the Psquare fortune into two so that Peter Okoye could walk away.
Cooler heads prevailed and the twins were persuaded be one again. They released their sixth studio album '' after the split fiasco.
Recommended articles
NDC Flagbearership Primaries: John Mahama to be vetted today
Ministerial Approvals: My father would have made all the NDC MPs swear on Antoa – Zanetor Rawlings
'Traitors, Judases and Esaus' – Ablakwa blasts NDC MPs who approved Akufo-Addo's ministers
I intend to do work that will increase investment in Africa - Kamala Harris
US Vice President Kamala Harris arrives in Ghana
Police reroute traffic in Accra and Cape Coast from March 26 to 29
Treason felony suspect, Dr. Mac Palm dies
Obuasi Prisons commander, DDP Aidoo retires
We can work together to achieve our goal - Ato Forson