Young student builds an aeroplane
Although the mini airplane has no engine, it looks like a real jet and even can contain two or three passengers.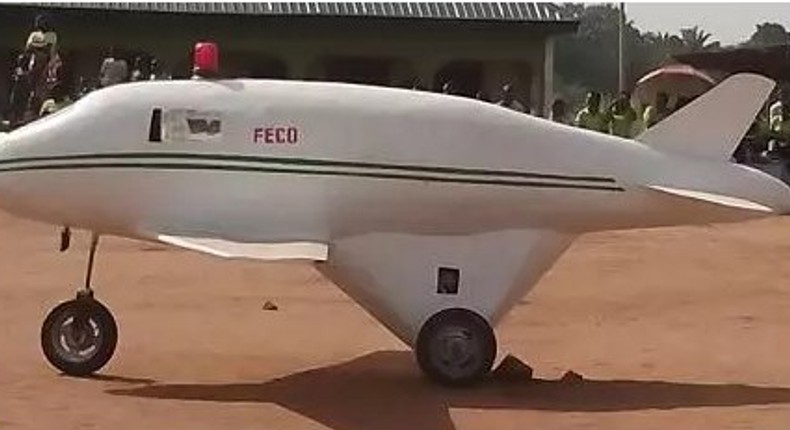 A young boy has reportedly built an aeroplane, all by himself, albeit without an engine.
All the same, as much as some people really admire such young talents, most people have reacted with scepticism to this new creation.
"Na wao… Can it fly? Cos aeroplane flies. Not putting metal together and giving it a shape of an aeroplane then bringing it to public viewing..When will Nigeria stop feeding on carcass of western worlds? Still kudos to the boy," Amdoyin wrote.
"Great! Keep it up boy! If our country wants a future,they should pick boys like this and develop them immediately by sending them to abroad for further studies. This guy can begin building planes in the future for Nigerian Air plane Manufacturing Company N.A.M.C. I just coined that one!" Ideyontop noted.
"High time all these things are discouraged. No matter how hard they try, the art of aircraft manufacturing is not a one man thing, it requires high tech brains."
"Maybe to join a toy-making company because that's what I can see there. So many unknown people make toy cars, toy guns etc, so I don't think this should be news. It's not all about putting metals together and producing another toy; it's about making something functional," Jesumed wrote.
No matter what the general controversy might be, this is a great achievement and we hope his talent can be nutured into so much more.
See photos of the mini plane above.
JOIN OUR PULSE COMMUNITY!
Recommended articles
Twerking Wendy Shay threatens to snatch someone's man with her slim waist in 'wild' video
4 side effects of being a virgin for too long, according to research
Doctor and nurse suspended for having sex, moaning and disturbing patients who're in pain
Police save little boy who hid inside aeroplane's engine to travel abroad (video)
For men: 5 foods that can help you stay erect and sustain stronger erection
Women, this is why you should learn to initiate sex more in your relationship
Bongo Ideas attracts cyberbullying backlash again over comment on Gary Al-Smith's suit
Ayisha Modi goes naked on IG as she flaunts her newly 'acquired' body (VIDEO)
Elikem Kumordzi flaunts new baby mama, son for the first time (WATCH)