<scriptid="mct-script"src="https://app.mycountrytalks.org/embed.js"data-iframe-src="https://app.mycountrytalks.org/talks/9b3c8cc1-8a05-4fa0-bcc2-edef9d8b28d1/join?starting_question=1153"async></script>
Ghana Police Service reinstates DSP Basintale
He was interdicted after his alleged involvement in a GH¢1.3 million gold scandal.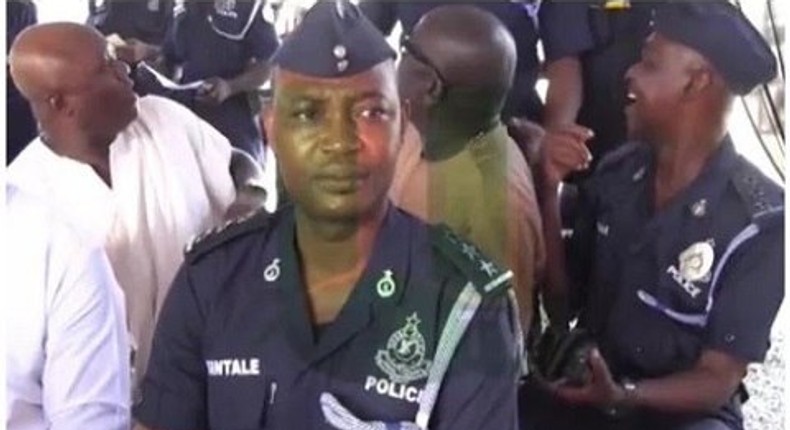 The Police Administration has reinstated the former East Legon Police Commander, Deputy Superintendent of Police (DSP) Mr Emmanuel Basintale.
But according to Accra-based Citi, the said officer has since been reinstated. His reinstatement took effect two weeks ago.
A licensed US gold buying firm, Green Global Resources, at a press conference in June this year said that some high-ranking officials of the Police Service have connived with some individuals to dupe them in a Ghc1.3 million gold scam.
They accused the suspects involved in the case, including DSP Basintale of seizing 13 gold bars from the firm under the pretext that the firm was allegedly buying stolen gold.
The then East Legon Police Commander, DSP Emmanuel Basintale and 6 others, were interdicted.
But the lawyer for  DSP Basintale and his three other colleagues, Kissi Agyebeng in a statement said his clients "have borne in silence the brunt of the odium the publications reduced them in their name, reputation, and standing society, until now."
According to him, the Police Service was initially given "the benefit of its stature that it would institute a service enquiry timeously to establish the veracity or otherwise of the allegations, should it find the need to do so upon their interdiction" but recent events have given indication that "the Ghana Police Service is unwilling to act within the confines of law and regulation in this matter."
The lawyer also made the following clarifications on behalf of his clients
Our clients were dutifully doing their job and proceeded to arrest suspects upon a complaint and after investigations, they arraigned the suspects.
Our clients have not engaged in any criminality by any stretch of the legal and factual imagination
The confessed suspects who had been charged with the respective offences before court were faced by the CID Headquarters
The CID Headquarters has now declared them wanted again
The substance purported to be gold has not been independently assayed to establish their nature and substance
The suspects confessed to defrauding the complainants and switching the actual gold for fake gold
The Ghana Police Service is perpetrating and illegality by purporting to hold a service enquiry in respect of our clients in flagrant violation of C.I 76.
JOIN OUR PULSE COMMUNITY!
Recommended articles
10 African countries with the lowest digital quality of life index
Ghana may lose control of its resources to China if it defaults on its debt
Top 10 richest mineral-producing countries in Africa
Akufo-Addo to address nation tonight on Covid-19, IMF deal
Polytechnic student commits suicide after losing his and roommate's fees to betting
E/R: Vehicle plunges into river, killing three
Africa's richest woman Isabel Dos Santos finds herself deep in another financial scandal
8 persons arrested by Police at NDC primaries for various offenses
7 incredible health benefits of bitter kola