UT workers locked out
The staff of the Bank who spoke to Pulse business say they are yet to be briefed by on happenings in the institution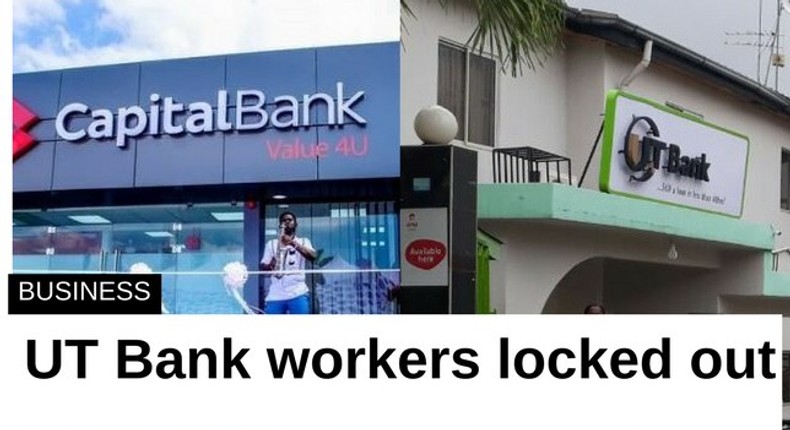 Staff of the headoffice UT Bank at airport in Accra are currently standing in front of their office.
Most of them are still carrying their bags and other items. A possible indication that they have not had access to their offices yet.
The staff of the Bank who spoke to Pulse business say they are yet to be briefed by on happenings in the institution.
There is heavy security presence at the bank.
Below is the press release from the BoG
GCB BANK LTD TAKES OVER UT BANK LTD AND CAPITAL BANK LTD
The Bank of Ghana has approved a Purchase and Assumption transaction with GCB Bank Ltd that transfers all deposits and selected assets of UT Bank Ltd and Capital Bank Ltd to GCB Bank Ltd.
The Bank of Ghana has revoked the Licences of UT Bank Ltd and Capital Bank Ltd. This action has become necessary due to severe impairment of their capital.
The remaining assets and liabilities will be realised and settled respectively through a receivership process to be undertaken by Messers Vish Ashiagbor and Eric Nana Nipah of PricewaterhouseCoopers (PwC).The main offices and branches of UT Bank and Capital Bank will be under the control of GCB bank and will be opened at 1pm today for normal business transactions.
Customers of UT Bank and Capital Bank are now customers of GCB bank. All deposit customers will continue to have access to their funds. UT Bank and Capital Bank branches and ATMs will continue to operate as normal as GCB bank branches and ATMs. All staff in the interim will become staff of GCB bank and GCB Bank will negotiate the terms of their contract.
GCB was selected amongst 3 others on the basis of purchase price, cost of funding, branches to be retained, staff to be employed and impact on the acquiring bank's capital adequacy ratio.
The Bank of Ghana assures the public that all customers can continue normal banking business at all UT Bank and Capital Bank facilities which are now branches of GCB bank.
The approval by the Bank of Ghana of this transaction is to strengthen Ghana's banking sector, ensure financial stability and protect depositors' funds.
The Bank of Ghana reassures customers of UT Bank and Capital Bank that their money is safe and they can continue to do business at their respective branches which are now the branches of GCB Bank.
JOIN OUR PULSE COMMUNITY!
Recommended articles
Top 10 African countries with the most transparent GDP data
Top 10 African cities with the highest population growth from 2022 to 2023
Treason felony suspect, Dr. Mac Palm dies
Nigeria is planning to unlock revenue from the sale of tickets on international airlines and launch Nigeria Air by May
African countries with the cheapest household electricity prices
Top 10 most ethnically diverse countries in Africa
Uganda expects its debt load to reduce and its economic growth to increase by 7%
South African rapper, Costa Titch slumps, dies on stage
Tracey Boakye shows off newborn baby boy as she reveals his name (WATCH)