Employment, further studies and family reunion top reasons for migration
The report, commissioned by Friedrich Ebert Stiftung, shows the proportion of households with emigrants is higher in male-headed households (31%) compared to female-headed households (19%).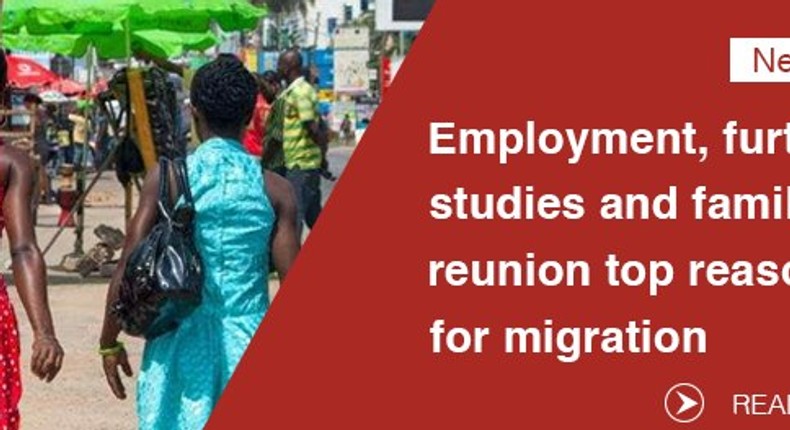 For most Ghanaians, migration has become a survival tool in the face of varied socio-economic challenges.
Almost half (49.7%) of households in Ghana have at least a migrant family outside Ghana.
The other half (50.3%) is likely to be engaged in internal migration, a survey report on labour migration in Ghana has found.
In total, 2831 respondent households in all the 10 administrative regions of Ghana were surveyed and top of the reason for migration were for employment, further studies and family reunion.
More than 4/5 of respondent households' members had migrated abroad for employment and/or undertake further studies reasons.
In terms of destination, the preferred choice by most emigrants was European countries and the USA.
The choice, the reported noted, may be influenced by economic reasons as they are perceived to have better employment opportunities and good educational facilities for further studies.
Regarding working and living conditions, majority of households had had one complain or the other from emigrant members.
The issue of hard work, high cost of living in host countries and bad conditions of service in host countries were the most complained about. This notwithstanding, most migrants were reported to be better off in destination countries.
Majority were observed to be working in jobs that match their educational and professional background and experience, with most emigrants indeed reported to be holding higher positions than before.
JOIN OUR PULSE COMMUNITY!
Recommended articles
Aliko Dangote the richest man in Africa just got richer
It would take Nigeria 300 years to build world class infrastructures according to the World Bank
How to make love: 3 surest ways to have intense/multiple orgasms
5 things a woman would do only if she truly loves you
Ghana to send trained nurses to the UK – Agyemang Manu
4 things in a relationship that must be kept a secret
We're going to put our lives on the line against Ghana – Luis Suarez warns
'Better than Messi' – Ghanaians react to Afriyie Barnieh's performance against Switzerland
You can laugh at us but you didn't see a quarter of Qatar – Dumelo mocks Nigerians