Actress, John Dumelo resolve dispute with adorable photo
The duo who 'fell out of love' early last year following the #Dumsormuststop campaign brouhaha have reconciled if this latest Instagram post is anything to go by.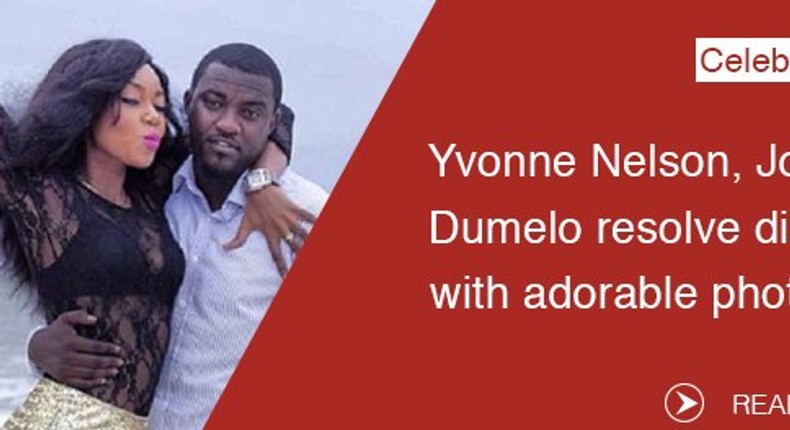 Ghanaian actress, Yvonne Nelson and John Dumelo have finally settled their rift!
Yvonne Nelson shared a cheeky video on Instagram today, July 19, 2016 showing the two goofing around with SnapChat filters.
She also shared another shot of the two in an embrace writing, "Even Politics couldn't break us #bestfriend."
And it didn't break them.....
Recall that the two actors clashed when Yvonne Nelson started the #DumsorMustStop online, criticizing the government for the state of power supply in the country.
Dumelo took offense when Yvonne Nelson called him an "ass-kisser" for apparently defending current President of Ghana, John Mahama, when the #DumsorMustStop social media campaign started.
"U called me a kiss ass...that's cool. Maybe it's better to kiss ass than to keep friends who will stab me in the back" he tweeted.
He also tweeted "I've kept mute for weeks now but Charle E dey bore. When your paddy paaaa wey U den am dey do things together insult U for public. God dey."
Glad the two are back together! Fans sure have missed their crazy pictures.
JOIN OUR PULSE COMMUNITY!
Recommended articles
Despite $3 billion bailout, Ghana has essentially gone bankrupt
Burna Boy shows love to Ghanaian market women dancing to his song [VIDEO]
Top 10 African cities with the least affordable housing
Ghana is looking to supply Nigeria with its electricity needs following power grid shutdown
Top 10 African Countries with the best digital quality of life in 2023
Ghana vs CAR: Black Stars' probable line-up for today's AFCON qualifier
Top 10 African countries with the strongest soft power influence over the world
Challenges mount for Nigeria's $13 billion Trans-Saharan gas pipeline amid Niger coup and financial woes
Top 10 African countries with the highest debt-to-GDP ratio