Meet the plus size model changing how you see naked women online
According to Simon Posa, the move is to inspire other women such as herself who are uncomfortable with their weight since she's experienced it firsthand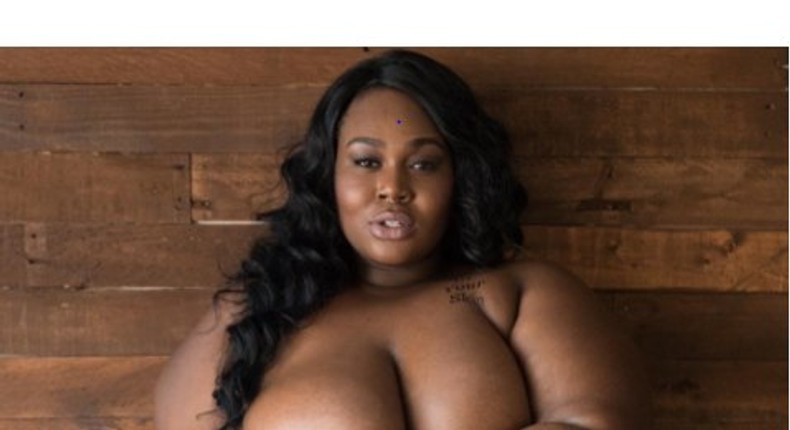 Simon Marie Posa, a black plus-size model is literally breaking the internet with a topless photo of herself.
Marie Posa might be on her way to stardom with this new image of herself in the name of body positivity.
According to the Guyanese beauty, the move is to inspire other women such who are her size and  are uncomfortable with their weight since she's experienced it firsthand.
"I've had this picture saved in my drafts for a while, and I was scared to post it.I have a tough relationship with the rolls on my stomach, and anytime they show in pictures, I always delete them. She said in a post on photo-sharing app, Instagram. But I took a second to think about it, today.
This is me, the body that I have worked so hard to love and accept.There's no hiding it, and I shouldn't have to. "
Also she explained that not posting the image would be a "disservice" to herself and other women who look up to her.
"I'd be doing a disservice to myself and the women who look at me and my body for inspiration to present a constantly edited depiction of myself.So here I am. Rolls and all."
In an Instagram post, Marie Posa who doubles as an activist shared an untouched photo of herself with no bra and jeans as she covered her nipples.
The photo has received more than 12,000 likes with 837 comments come in which also makes it the most liked on her page.
Plus-size modelling has become a thing in an industry where women are body shamed for being too fat and many have suffered from anorexia. A number of former models have confessed to the inhumane conditions meted out to models. Plus-size models such as Marie-Posa may never walk the runway for big fashion houses but their effort to create diversity in the industry continues to inspire other women to look and be their selves.
Recommended articles
Afia Schwarzenegger sentenced to prison with hard labour over Wontumi's defamation suit
Darkovibes releases infectious single - 'Yao'
'I'm gonna f**k your husbands' - Princess Shyngle tells women who slept with her man
Shatta Wale kneels to apologise to event sponsor for failing to perform
Black Sherif performs at 25th MOBO Awards in the UK
Lupita pays tribute to late Chawick Boseman in sweet message
'I bring peace of mind' - Princess Shyngle list things she brings to the relationship table
'Don't you dare propose to me, I don't want to get married again' - Princess Shyngle
M.anifest returns with innovative new project 'the e.p.ilogue' to conclude 'Madina to the universe' journey