Sena Dagadu talks about her music and inspiration
BeatPhreaks recently caught up with Ghanaian-Hungarian artiste Sena Dagadu of Irie Maffia – an electro/hip-hop/rock/dancehall formation, which is considered as one of the best concert bands in Hungary, to talk rap and inspiration.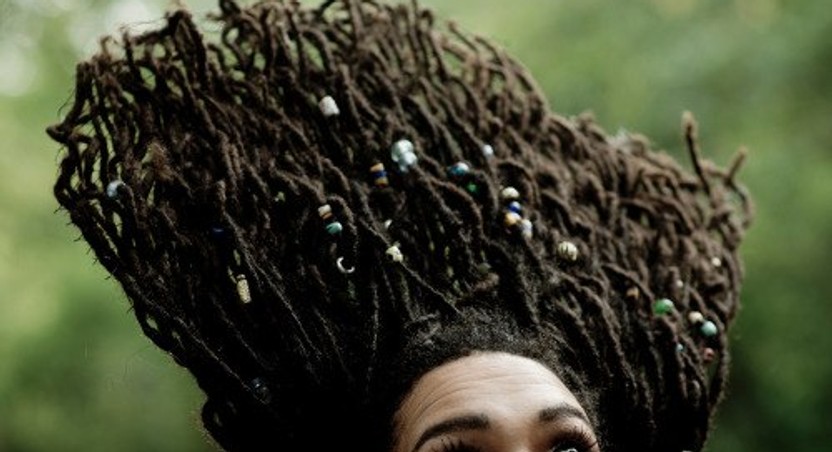 Read below a transcript of the interview they had with her.
How did you get into rapping and who or what inspired you to put down your first verse?
My sister came home one day with a Snoop Dogg tape. I remember at first I didn't really understand what it was all about. After a while i started to get the whole flow and from then i was hooked. I wrote my first verses when i moved to Budapest
Apart from Snoop Dogg, who else did you listen to in the early years?
Fugees, Biggy, Tupac, Lil Kim, Gang Starr, Busta Rhymes, Missy, Salt-n-Pepa, Mos Def, everything really. My sis would get mixtapes and bring them to me. Sometimes I didn't even know who I was listening to. I would just soak flows and vibes. I loved Lost Boyz n Bone Thugs too. I had a lot of free time when i first moved so my pen and paper were my best friends :-)
Irie Maffia…tell us, how did that happen? What fostered your involvement with the group?
I knew the guys from way back when I was with Gimmeshot Crew. Elo and Jummo Daddy were producers there at the time. They asked me point blank to join and finish the Hands Inna Di Air album with them. I had plenty free time, no money and enough sense to see an opportunity knocking so I said yes and we have been rocking it since.
What inspires you to write? Take us through your thought process when you sit down to put down a verse
It is so random. I mean like last night we had a cool show with Red Red, I went home and was feeling good so I wrote a verse. Sometimes it just comes, other times I have to think hard. Most times I put the beat on repeat for hours and write it out. Sometimes I start by writing words that pop into my head then string them up into a tune, other times i don't even have to think. It depends on my state of mind and spirit but everything and anything can inspire. A good beat helps though.
It's quite apparent that your style is quite unique. What or who would you attribute your style of writing and delivery to?
Haha thats my secret. I consider myself a chameleon. A lot of people influence me but its my mind and spirit that make me unique. Then there's time and practice, getting to know myself and my voice, learning and listening.
Who do you listen to these days?
Well Spotify is great. I get to hear lots of new stuff. My husband collects lots of trap and hiphop so I just press shuffle. Loving Trombone Shorty when I'm home alone though. I  love Jazz, Soul, Hip-hop but mostly I listen to the music we make. I mean with M3nsa and Elo in the place its hard not to have dope stuff to listen to.
Would you say you've found your voice as a rapper or are you still evolving?
Ever evolving chale. Constantly changing and learning, in fact i don't know anything oooh. I am just riding waves, sometimes crashing sometimes flying high. I know who I am today but nobody knows tomorrow so its exciting.
LOL now you're being modest.
Thats just who I am. I mean if I think I am the don, then the fun of learning is gone. I prefer the slow but sure road.
What's your definition of real rap music and can you give us 2 Ghanaian acts that you think put out REAL music?
Real rap has to be honest. No showing off just for the sake of sounding cool. I dey feel FOKN Bois, Yaa Pono, JoeyB, Pappy Kojo. Of course Sarkodie has made his mark and Obrafour I soaked plenty back in the days. You have to be fresh to make Hip-hop and rap so flex for dey inside. I mean see EL too. He's dope! And of course Reggie Rockstone. I have a lot to thank him for chale. He showed me plenty love every time! A true artist.
Freestyle or Pre-Written verses, which one are you most comfortable with?
I always loved freestyle, there's a rawness about it that keeps everyone on their toes. But these days I mostly do pre-written. I always leave room for some free styling though just to stay on my toes.
Comparing the rap scenes in Ghana to Hungary, which would you say has more competition?
Competition is everywhere. I live in Budapest so I know more about what's happing here. There are plenty dope rappers but GH has more and more talent popping up. We will see who survives but honestly I don't like comparing. Just do what you do to the fullest. Others will always be there, some better some worse.
In terms of opportunity though, would you say Budapest provides more opportunity & inspiration for you as a artiste compared to Ghana?
When it comes to venues, festivals, airplay etc, maybe Hungary has more to offer. There are lots of platforms and spaces to practice. Thats why we started the movement back in the days in Ghana, to have small stages where artists can come and practice with audience live. But even here it is not easy to get into the big circles. You have to hustle hard no matter where you live. Apart from the most obvious pitfalls in the Ghanaian music industry, what do you think makes it harder for artistes to breakthrough?
I dunno, money (hahaha). If more venues and festivals had stages for unknown talents and people came and supported, it might be easier. But I'm no economist chale. People still dey force. I mean see Stone Bwoy. He hustled his way up.
Who are your top 5 producers globally and from Ghana?
Wow you know it doesn't really matter to me. So long as it sounds dope it can be Kofi from Navrongo or Major Lazer. I don't really care. I make music with people I meet, usually those I personally know. I love that. It makes it personal. I started making my own beats a couple of years ago so I dey feel my own shit. (hahahah)
Lool dope! That's probably going to lead to a whole 'nother conversation so we'll save it for later.
Apart from the Irie Maffia crew, who's the most inspiring artist you've had the chance to work with and why?
Well…I have had trips to Turkey, Russia, Denmark, UK, France and other places playing with people nobody knows. Its not the level of fame of people that determines how great it is to work with them. The people who inspire me are simple people, great musicians, everyday guys who's names will say nothing to those who don't know them.
Just for fun, what's the lamest punch-line you've heard from a rapper till date?
Hahah I don't even know. I might have to quote myself (hahahaha). I don't know about lamest but favourite be EL "My last line be too nonfa e be somtin somtin Korle-Bu gutter". Thats just dope. But chale more USA rappers dey talk shit plenty. I don't even have to quote.
Finally, what have you learnt coming up that you'd like to share with people who look up to you?
When you are listening shut up and listen. When you talk, talk your truth. When you push, push hard. When you chill, chill well and don't give up (Although I have been close a few times, some angels have always helped). Know the good people around you.
Word! Thanks for taking time out of your schedule to talk to us and we look forward to seeing you back in Ghana real sooooon!!
JOIN OUR PULSE COMMUNITY!
Recommended articles
Okyeame Kwame: I've never cheated on my wife in our 12-year marriage
'I f**king love gays, nobody should sit on their freedom' - Shatta Wale on anti-LGBTQ+ bill
Here are 7 things you missed at Pulse Influencer Awards 2021
'Is he not gay?' - Social media react to Nana Tonardo kissing his 'white sugar mummy' (VIDEO)
E.L's "Superhero" clocks 20M plays on Spotify, becomes most streamed Ghanaian hip-hop song
'Ghanaian acts need to work 10 times harder to get to where Nigeria is' - King Promise
'I lay at your feet' - Okyeame Kwame says as he marks his wife's birthday
'Sucking breast gives wisdom and long life, do it every morning' - Captain Smart to men (WATCH)
MzGee breaks silence after quitting TV3, says 'it is now time to fly higher'