Snake charmer killed by king cobra (Video)
A show-off snake charmer was killed after a king cobra bit him twice during a performance for neighbours.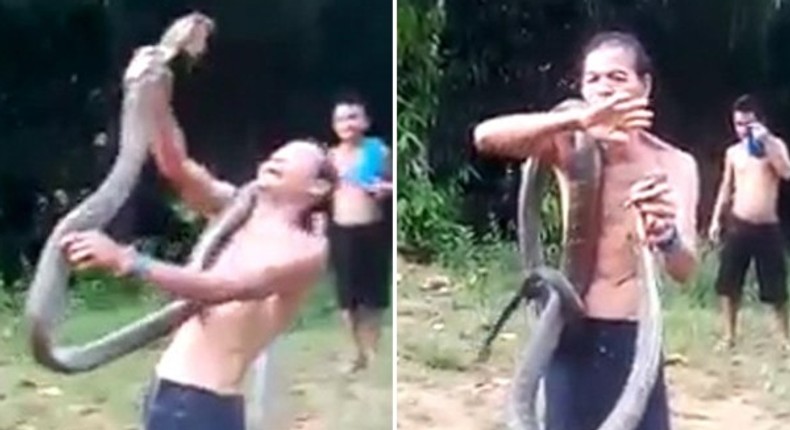 The black magic shaman, named Norjani, caught the huge reptile a week ago in West Kalimantan, Indonesia.
He kept it locked in his wooden hut for "traditional medicine" before bringing it out to show neighbours on Saturday.
Norjani could be seen laughing at the five-metre-long reptile as it hissed and attempted to make a break for freedom. It then lunged at him and plunged its deadly fangs into the handler's arm.
Norjani waved away residents who came to help and continued with the bizarre routine, which was caught on video. The king cobra then bit a second time on the healer's face but he still continued smiling while doing his performance.
More than two hours after the 4pm performance, Norjani began to feel sick and was taken to hospital where medics gave him anti-venom.
However, the cobra's poison had already spread throughout his body and he was pronounced dead later that evening. Norjani's devastated family then killed the king cobra by chopping off its head, an act they believe would avenge any evil spirits.
JOIN OUR PULSE COMMUNITY!
Recommended articles
Boys of this tribe must perform blowjob on older men, drink their semen to "grow properly"
'You are promoting Antichrist if you wear jeans' - Prophetess claims
Serious prayer & tongue-speaking by passengers as aeroplane develops fault mid-air (video)
I've accepted marriage proposal of my friend's boyfriend but I'm feeling guilty - Lady cries
Ghanaian man cries out after thieves broke into his shop and stole 2 coffins (video)
Man who scored 9 'Fs in chain' graduates from university with first-class degree
Man sets Guinness World Record after lifting a woman weighing 63.80kg with his beard (video)
Man reports his close friend to authorities for getting rich overnight
19-year-old girl stabbed multiple times in Accra after catching her brother & mother having sex