Two 14-year-old boys stripped naked, beaten & paraded through Akuapem Adawso over GHC100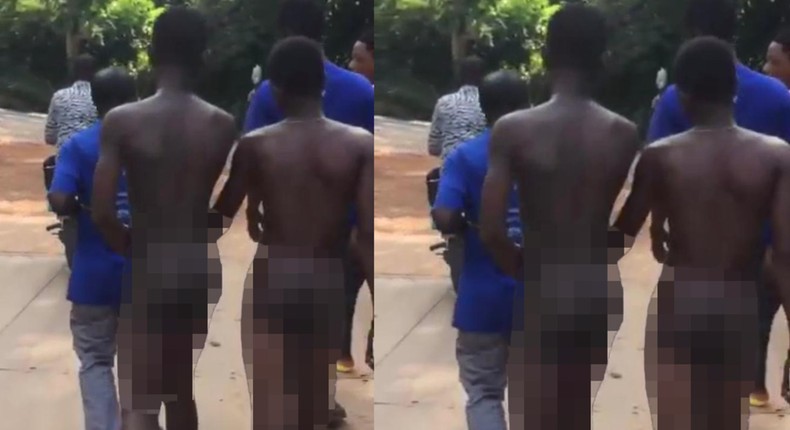 The incident occurred at Akuapem Adawso in the Akuapem North Municipality of the Eastern region on Friday, October 29, 2021.
According to Starrfm.com.gh, the victims, both 14 years of age, were alleged to have stolen Ghc100 cash and a mobile phone.
A resident identified as Larbi and Akwei reportedly led a mob to assault the teenagers so severely that one of them defecated on himself.
As if that was not lawless enough, the mob then paraded the boys through the Tinkong stretch of the Koforidua -Mamfe highway to the Adawso township while they were naked.
Mob strips 2 boys naked, parade & beats them through Akuapem Adawso town over GHC100
Starr News Eastern Regional Correspondent Kojo Ansah who visited the community got a disturbing video that shows the hands of the two minors tied while being paraded and assaulted.
Augustina Danso, mother of one of the assaulted teens is reported as saying that the matter has been reported to the Adawso police who then transferred it to the Akropong District Police Command but no arrest has been made.
The heartbroken woman expressed disappointment in the police for ignoring her case and emboldening the perpetrators of the crime to taunt her that she can't get justice because she is poor.
While shedding tears, Augustina Danso said: "Help me, I don't have anyone to help. The child is my sister's child. She is deaf and dumb. She can't speak. We don't have money to litigate to seek justice. I beg you, help. They paraded them nakedly on the streets. They said they have stolen just Ghc100 which was taken away from them.
"Even if someone steals something of yours, you need not take the laws into your own hands. You have to report the person. How they stripped them naked, dragged them through the principal streets through the market, and it was a market day. Drivers, traders, those who are selling those who are buying. So, they have disgraced the children."
JOIN OUR PULSE COMMUNITY!
Recommended articles
Serious prayer & tongue-speaking by passengers as aeroplane develops fault mid-air (video)
I've accepted marriage proposal of my friend's boyfriend but I'm feeling guilty - Lady cries
Ghanaian man cries out after thieves broke into his shop and stole 2 coffins (video)
Man who scored 9 'Fs in chain' graduates from university with first-class degree
Man sets Guinness World Record after lifting a woman weighing 63.80kg with his beard (video)
Man reports his close friend to authorities for getting rich overnight
19-year-old girl stabbed multiple times in Accra after catching her brother & mother having sex
Pressure mounts on SDA pastor to resign for saying "the best person to rape is your wife"
Scientists say a proper hug must neither last less than 5 seconds nor more than 10 seconds