Pop queen is 1st African American to cover a grand Vogue's highest selling issue
Beyonce makes an iconic cover of Vogue Magazine's September 2015/bestselling issue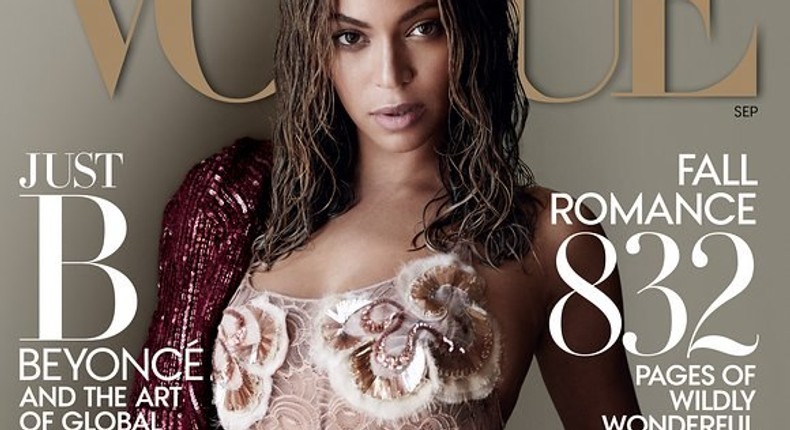 The pop queen makes her the first ever African American female musician to dominate (solo) the September issue dubbed as the highest selling issue of the year.
She also makes the third African American woman to appear solo on the cover of the issue after Naomi Campbell and Halle Berry did in 1999 and 2010 respectively.
Last year, Vogue magazine introduced  "Instagirls" Cara Delevingne, Joan Smalls and Karlie Kloss for a statement September 2014 cover, fast forward to one year after and Beyonce takes a bold cover.
The pop queen chose a statement , $12,000 Marc Jacobs dress with bold petal details and $4,800 Marc Jacobs sequin coat for the cover, leaving her hair damp and dangling Beyonce style with flawless natural makeup look for the cover shot.
Beyonce also showed off her famous curves in grand designer looks for the cover feature, looking every inch the power queen. The September issue will be available online from August 14th 2015.
Take a look at photos from the shoot above. Watch Beyonce's behind-the-scenes-video for the undefinedshoot below.
Recommended articles
The best celebrity pictures on Instagram this week
DIY Recipes: How to make soy milk
Planning a wedding? Here are 4 mistakes to avoid
Low sexual satisfaction can make men have memory decline - Study
Menstrual hygiene: Here's how to wash your period panties properly
DIY Recipes: How to make cornmeal doughnuts (Awiesu)
For women: 4 simple tricks to make a man fall in love with you
10 trending Kente styles that took over the 'gram in May
Study shows men have been peeing wrong; they ought to sit and not stand