How to prepare mixed vegetable soup
Pulse daily DIY recipe teaches prospective chefs how to prepare healthy, Ghanaian dishes in a simple way.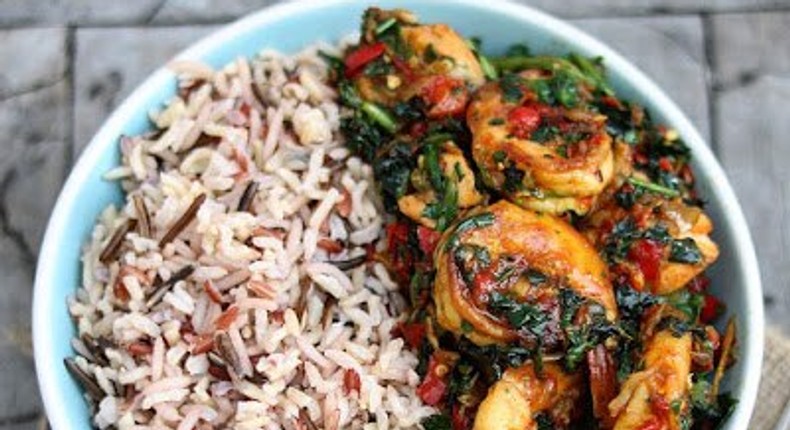 3 Paprika peppers (tatashi)
red dried whole pepper (shombo)
400g king prawns (peeled and deveined)
2 salmon fillets (cut into small cubes)
1/3 cup crayfish1 teaspoon
1. Place Salmon in a bowl, season with salt and Foodace All Purpose Seasoning. Fry and set aside. Season prawns with salt, fry and set aside too.2. In a food processor, add the paprika peppers, dried peppers, crayfish and onion. Process until roughly chopped.3. Heat up coconut oil, add the blended pepper mix and fry. Fry for about 10 minutes; turn occasionally. Then add the seasoning cubes and salt to taste4. Now, add the prawns and salmon; reduce heat and allow to simmer for about 3 - 4 minutes.5. Place the kale in a food processor, process until roughly chopped. Add to the stew base, stir in and allow to cook for about 3 - 4 minutes or until cooked to your satisfaction.6. Add spinach in the processor and process until roughly chopped (cut manually if you do not have food processor), add in the pot. Stir in, once spinach wilts, turn of the burner.7. Serve hot with boiled rice.
JOIN OUR PULSE COMMUNITY!
Recommended articles
DIY Recipes: How to make Peanut butter cookies
All the major events happening in Accra this December
Seduction: Women, easy and effective tips on how to do it right and make your man wanting more
5 essential items for a frontal wig installation
Flu? 4 home remedies to unblock the nose
5 things guys should never tell their girlfriends
How your favourite Ghanaian celebrities are stepping into the new month
Style guide: 10 trending kente outfits that took over the 'gram' in November
For men: Here's why you should consider sleeping naked