DIY Recipes: How to make baked chicken balls
These chicken balls are amazing and very easy to make.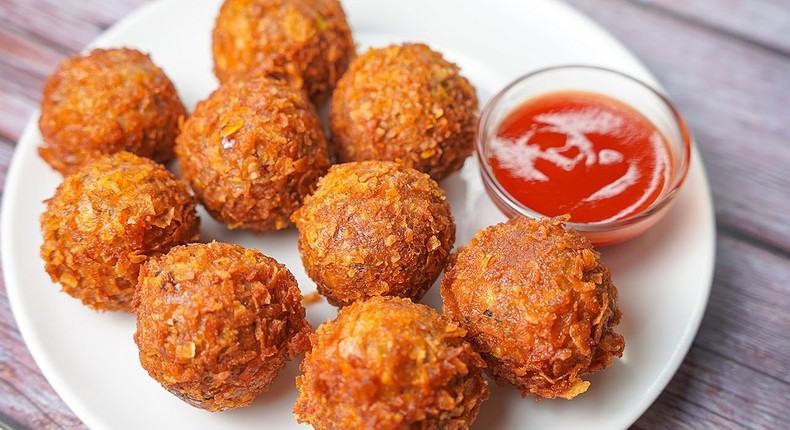 Serve these easy recipes with rice, pizza, sandwich or anything of your choice.
1 pound ground chicken (I like 93% lean)
1/2 cup whole wheat panko breadcrumbs
1/3 cup Parmesan cheese finely grated
2 tablespoons extra-virgin olive oil divided
1/2 teaspoon garlic powder
1/2 teaspoon onion powder
1/4 teaspoon red pepper flakes
2 tablespoons tomato paste divided
3 tablespoons flat-leaf parsley finely chopped
2 1/2 cups fresh spinach lightly packed
Preheat oven to about 400 degrees.
Lightly coat a 9×13-inch baking dish or rimmed baking sheet with nonstick cooking spray.
Beat the egg in the bottom of a large bowl. Add the chicken, breadcrumbs, Parmesan, 1 tablespoon olive oil, oregano, garlic powder, onion powder, salt, red pepper flakes, fresh parsley, and 1 tablespoon tomato paste. Finely chop the spinach so that it is in small bits, then add it to the bowl.
With a fork or your hands, mix until well combined, being careful not to compact the meat.
Shape the mixture into 12 meatballs and arrange them in the prepared baking dish, 1 inch apart, so they do not touch.
Whisk together the remaining 1 tablespoon of olive oil and 1 tablespoon of tomato paste in a small bowl. It won't be perfectly smooth but will bake up just fine. Brush over the top of the meatballs.
Bake the meatballs in the upper third of the oven for 18 to 22 minutes until cooked through.
Serve hot with pasta, noodles, or any way you choose!
Recommended articles
DIY Recipes: How to make fruit salad with milk
For men: 5 places you shouldn't touch a woman during s*x
Unprotected sex? Here are 3 health risks you should know, remedies
5 simple kitchen ingredients you can use as lubricants during sex
7 wardrobe essentials for every Ghanaian man
7 Self-care activities to do on weekends
Dating to marry? 5 simple things to consider
The best celebrity pictures on Instagram this week
The best ways to improve your cognitive health