DIY Recipes: How to make soy milk
Soy milk popularly called soya milk is a popular drink in Ghana.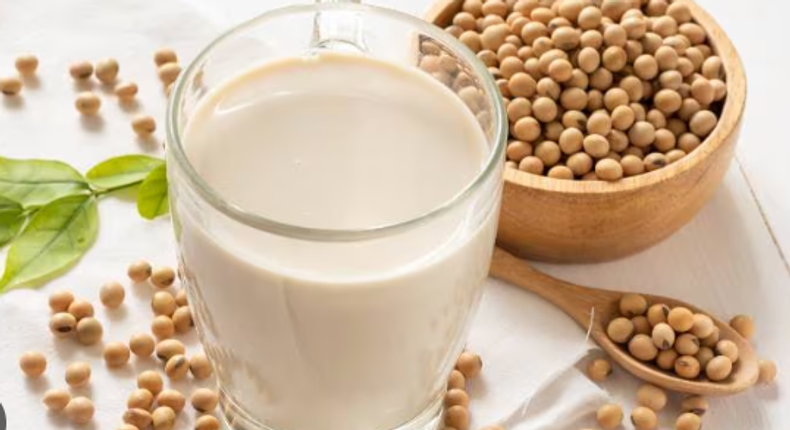 This recipe is very healthy and delicious.
Ingredients for making soy milk
Method for making soy milk
Soak the soybeans in water covering overnight. This will cause the beans to expand and the skins will come off easily. You can choose to peel the skins or maintain them when blending.
Place the soaked beans into a high-speed processor/blender for just 10-15 seconds to break down the seeds slightly. Add the water and blend again until smooth and creamy.
Transfer the entire mixture to the pot and bring to a boil over medium heat, stirring often. Continue to cook for 3-4 minutes. While boiling, remove the foam that starts floating on top.
Reduce the heat and simmer for 15-20 minutes, stirring occasionally to make sure nothing is sticking to the bottom of the pan.
Turn the heat off and leave to cool down for a few minutes. You can strain the liquid to remove any fibre using a clean cloth OR still maintain the fibre in it.
Then transfer to a bottle. Store your homemade soy milk in the fridge for 3-5 days.
Recommended articles
Here's why buying a car may not solve all your problems
Aside from smoking and drinking, these factors could be damaging your kidneys
How to seduce your man: Insights from Reflo's TV Ladies
What nobody tells you about being a mother
World Heart Day 2023 - 6 ways to reduce risks of stroke and heart diseases
DIY Recipes: How to make ice cream cones
Why you keep attracting emotionally unavailable men
3 things you should do if you plan on going through your partner's phone
PCOS: The leading cause of facial hair and menstrual disorders in women.