DIY Recipes: How to make the best Ghanaian corned-beef jollof rice
With Senegal looking for ways to join the 'Jollof war', let's remind ourselves that Ghana jollof has no challenger.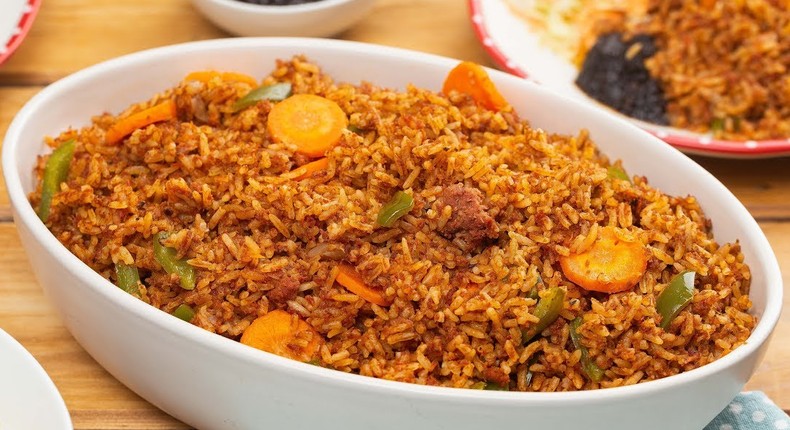 Adding corned beef to this recipe does some magic to our Ghana Jollof.
1 tablespoon of tomato puree
Seasonings – All-purpose seasoning, thyme or any one of your choice
2 cooking spoons of vegetable/olive or other oils.
Chopped bell peppers – Different colours for garnishing
Parboil rice in boiling water till it is slightly but not well done. This will reduce the cooking time in the stock and prevent it from burning too much. Rinse to remove excess starch, drain and set aside.
Meanwhile blend the tomatoes with the onions, ginger and pepper, and boil in a pot to dry up. Once dry, add the oil to the tomatoes with the puree and fry for some minutes.
Break up the corned beef and add to the tomatoes, together with the stock cube and seasoning. Stir and allow to simmer a bit before adding water.
Once the stock boils, add the rice making sure the water level and rice are almost the same. Gently mix to combine thoroughly while checking for taste. Cook on low to medium heat to avoid burning.
Once the water dries up, add the chopped peppers and stir.
Serve with plantain or egg as a side.
JOIN OUR PULSE COMMUNITY!
Recommended articles
Empowering women: Reflo's TV show inspires healthy relationships
Here are 8 most followed Ghanaian celebs on Instagram
DIY Recipes: How to make the perfect brownies
7 ways to stay friends with the opposite sex without catching feelings
Tactics con artists use before they scam you
3 reasons relationships that start in December may not last
DIY Recipe: How to make African drop doughnuts
5 things every young man in a relationship should know about women
The truth about feminine wash and perfumes