DIY Recipes: How to make Tuna rice
Looking for healthier versions of your favourite rice dishes? Try this tuna rice recipe.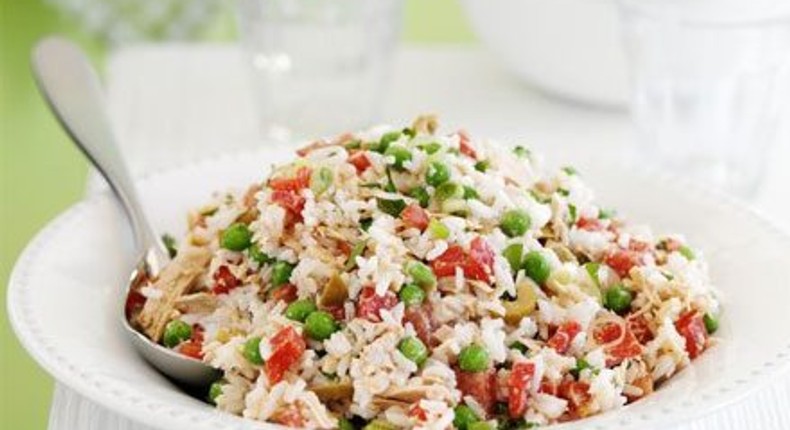 This recipe is very satisfying, and like most rice dishes, it's very comforting.
1 cup uncooked long-grain rice
1 (7-ounce) jar of tuna packed in olive oil
½ cup finely diced red bell pepper
¼ cup finely diced jalapeno pepper
¼ cup finely sliced green onions
⅓ cup seasoned rice vinegar
½ lemon, juiced, or to taste
1 pinch red pepper flakes, or to taste
1 teaspoon finely sliced green onion, or to taste
Pour rice into a heavy pot and add water; swirl to allow the rice to settle. Bring to a simmer over medium-high heat; do not stir. Reduce heat to low, cover, and continue to simmer for 15 minutes.
While rice is cooking, place tuna into a large mixing bowl and break it up with your hands or a fork. Toss in red bell pepper, jalapeno, 1/4 cup green onions, rice vinegar, lemon juice, soy sauce, Sriracha, and sesame oil. Mix with a fork until thoroughly combined.
Turn off the heat and let the rice sit, covered, for 10 minutes.
Fluff rice with a fork to separate the grains and break up any large clumps; transfer into the mixing bowl. Mix thoroughly with a spoon until all the ingredients are evenly incorporated. Taste and adjust seasoning if needed.
Serve warm, at room temperature, or cold like a rice salad, topped with red pepper flakes and 1 teaspoon of green onion.
Recommended articles
7 Self-care activities to do on weekends
Dating to marry? 5 simple things to consider
The best celebrity pictures on Instagram this week
The best ways to improve your cognitive health
FDA cautions against certain eyedrop brands as 3 die, 8 go blind
Coconut husk: 3 health benefits of this commodity
DIY Recipes: How to make Tubani (Steamed beans pudding)
7 photos that prove Sandra Ankobiah is the ultimate fashion girl for dates
Civil wedding? Here's how to plan this intimate marriage ceremony