How to prepare Ghanaian Chicken peri peri
Pulse daily DIY recipe teaches prospective chefs how to prepare healthy, Ghanaian dishes in a simple way.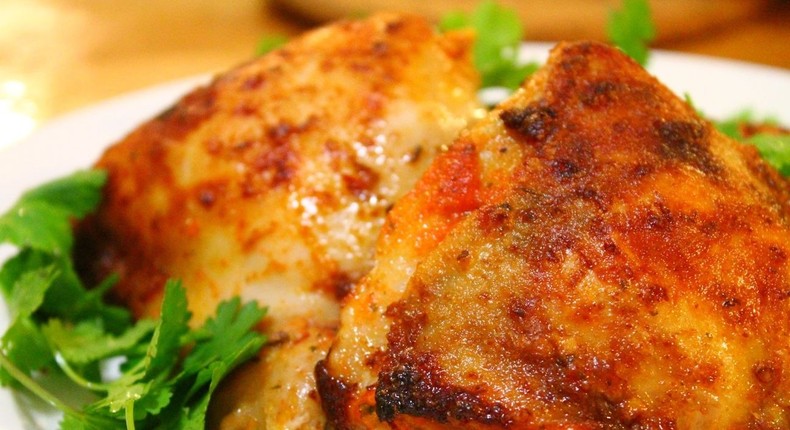 Invite your friends and family over this Valentines Day and surprise them with this spicy chicken recipe.
Full chicken
Garlic cloves, crushed
Grated fresh ginger
1 tsp ground peri peri chillies or cayenne pepper
3 tbsp peri peri oil
Coconut milk
The juice of ripe lemons
Freshly ground white pepper
1. Place the chicken, breast side down, on a clean, flat, work surface.
2. Starting at bottom end of the chicken, cut along one side of backbone with sharp kitchen scissors, then do the same on the other side of the back bone.
3. Turn the chicken over and open it up, press your hands down hard on the breast bone to flatten the chicken.
4. Now mix together the garlic, ginger, ground chillies, coconut milk, peri peri oil and lemon juice and zest and white pepper.
5. Place the chicken in a shallow glass dish and pour over the marinade and rub it all over the chicken.
6. Set the chicken aside for at least 30 minutes to marinade. (Can be overnight in the fridge too for added flavour)
7. Preheat the oven to 200°C.
8. Place the chickens with the left over marinade into a roasting tray and spoon over any leftover marinade.
9. Place the chicken into the oven and roast for 10 minutes and decrease to 180°C.
10. Roast at 200°C for the first 10 minutes, then decrease the oven temperature to 180°C and cook till golden and moist.
11. Serve on a board/platter with cumin potato wedges and a large green salad.
Recommended articles
7 Self-care activities to do on weekends
Dating to marry? 5 simple things to consider
The best celebrity pictures on Instagram this week
The best ways to improve your cognitive health
FDA cautions against certain eyedrop brands as 3 die, 8 go blind
Coconut husk: 3 health benefits of this commodity
DIY Recipes: How to make Tubani (Steamed beans pudding)
7 photos that prove Sandra Ankobiah is the ultimate fashion girl for dates
Civil wedding? Here's how to plan this intimate marriage ceremony