Indian groom ditches elephant, makes entry into wedding with Batman car (PHOTOS)
30-yr-old Amit Patel rolled into his wedding venue with the Dark Knight, a.k.a. the Brampton Batman himself in a sleek Batmobile.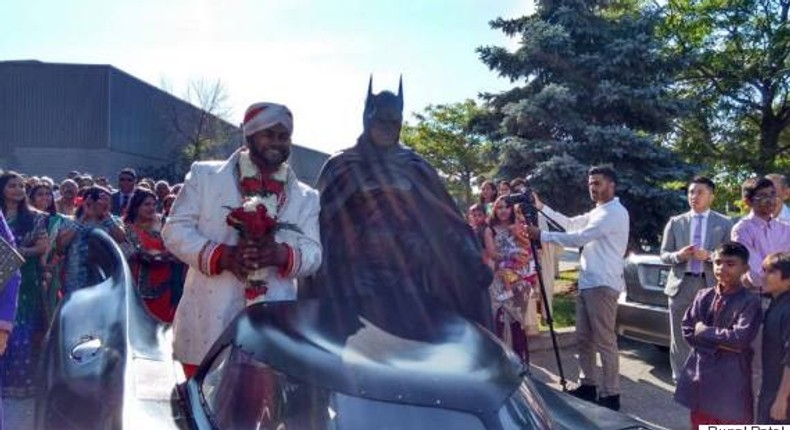 His love for the DC Comic superhero never ends.
A groom, Amit Patel recently surprised his 600 wedding guests when he made a grand entrance with the least thing they thought about.
30-yr-old Patel rolled into his wedding venue with the Dark Knight, a.k.a. the Brampton Batman himself in a sleek Batmobile.
The Indian-born groom who couldn't rent the actual Batmobile for his wedding got the next best thing to the legendary automobile with the help of a local Batman.
The Brampton Batman, who has been the favourite of locals for years now, has helped to fight crime and save children in the Ontario city. His car, a 1989 Batmobile replica, looks just like the real deal.
Speaking to The Huffington Post Canada, Patel said, "We figured no one had really done an entrance with the Batmobile, since we couldn't rent the Batmobile itself, we were more than happy to have Batman drive me to the venue."
At many Gujarati-Hindu weddings, the groom's arrival to the venue with his jaan (his family members and friends) is a big party itself. Often delaying the actual wedding by an hour, the groom and his family have one last hurrah outside the wedding venue, dancing with loudspeakers behind them.
But for Patel, the best part was having a local hero accompany him on his big day.
"He said he was going to rest up after a night of patrolling the streets of Brampton and the wedding in the morning was draining. It was also the first time he was a part of an Indian wedding and he thoroughly enjoyed it."
Patel a supply chain analyst said bringing the Dark Knight had cost him $500 (N105,500), and he says it was his preferred option compared to common Hindu wedding entrances with an elephant (which can cost $6,500) or a horse — something his wife originally suggested.
"I was strongly opposed to both since the last thing I needed was to embarrass myself on video taking a tumble off of one of them or having a runaway groom on an animal," he says. "She could hear the excitement from the bridal room in the hall so I think I did my part."
JOIN OUR PULSE COMMUNITY!
Recommended articles
DIY Recipes: How to make Mango milk juice
The best celebrity pictures on Instagram this week
Here's why standing during s*x could lead to stroke - Experts explain
One night stand: 5 common mistakes you make while having such sex
DIY Recipes: How to make flourless Peanut butter cookies
Meet the African tribe that offers s*x to guests
Why is it difficult for men to forgive when women cheat?
Ban on noise-making: How night clubs have resorted to silent headphones (Watch)
5 money talks to have with your partner before your wedding day